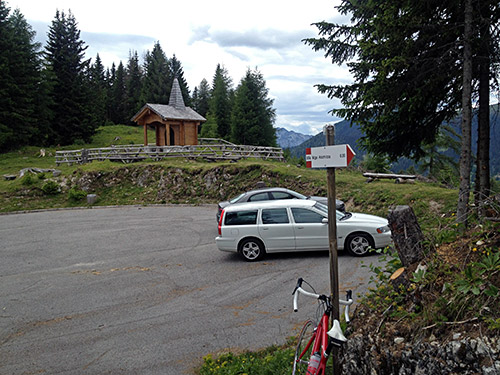 Yesterday I had to cut out from the plan the climb up to Sella Monte Agar (1702m) from Pietratagliata (513m) that I very much had wanted to explore and have looked at this climb for some years now (now there is also a recent profile of the climb at salite.ch) and go up to Sella di Somdogna (1392m), but those climbs I still have to leave for another time. Just as I passed by Pietratagliata this morning I was unlucky to have my first, but only flat during this tour. Typically they happen on the wide main road and not on some obscure gravel road. That was another reason not to try the Monte Agar road this day. I fixed the falt and went to Pontebba hoping to find a place to get more air in the tyre and buy a new tube, but there were no such facilities there or even nearby. The next place was on the other side of the Sella di Camporosso/Saifnitzer Sattel (816m) on the main road to Austria.
The plan was not to get up to Tarvisio, but instead to take a curious road crossing over to Austria from Ugovizza, which is on the way up to Camporosso. On the way up I decided (looking at the weather a lot to try and determine what it would be like) to go up to Camporossa and find the bicycle shop on the other side. It is one of the first houses on the other side and I was lucky it was not in the Camporosso village which is on a smaller road up here. I talked some with the guy at the shop about Sella di Somdogna and the boring fact that there is no road down to Valbruna and Ugovizza from there. He was hoping there would be chance that the Giro d'Italia would consider coming there and maybe have the track down there paved. I had planned to walk down there this morning originally from the Rifugio Grego.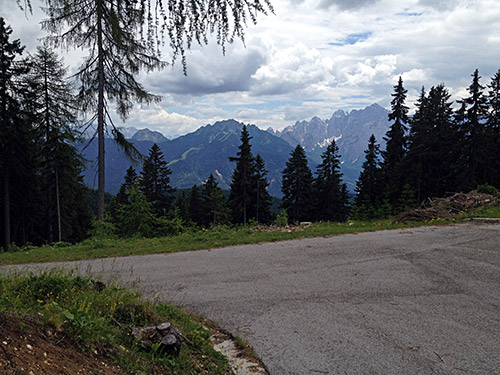 I decided to go back (a bit crazy to me, but) and take the road as planned from Ugovizza (772m) to La Rotonda (1600m) (the man in the bicycle shop also knew of this road). The three first photos here are from La Rotonda. This is actually the highest asphalted road in the north-east corner of Italy east of Sella di (Monte) Zoncolan (1739m) and Panoramica delle Vette (Monte Crostis) (1982m). Most would likely think of Altopiano del Montasio (1540m) or Passo del Cason di Lanza/Lanzenpaß (1557m) are highest here. East of here we have the Slovenian Mangart road which climbs to 2050m (near Passo della Lavina (2055m)). On the Austrian side of the Naßfeldpaß/Passo di Pramollo/Pas dal Pramuel (1530m) there is also an asphalted road going up to a restaurant/hotel reaching 1627m.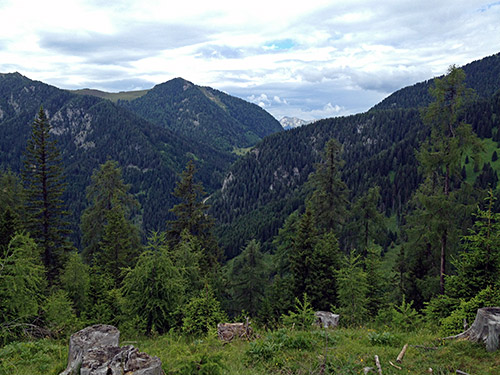 The road climbs up the narrow valley above Ugovizza and after a water tap there is soon a crossing with one road going straight up to Rifugio Nordia, one is going left up over a pass (gravel road I believe), but to the right there are two roads. One climbs at once and is the one to take – there are no helpful signs here.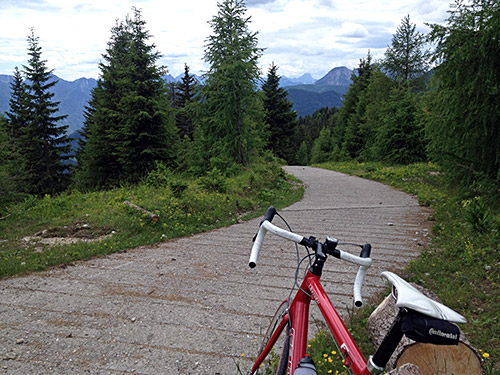 At La Rotonda there is a gravel road/track going up the ridge toward Austria. Even along this track there were a paved concrete section where it was steep. Some parts of this track is good enough for a road bike, but a mountain bike is of course recommended here.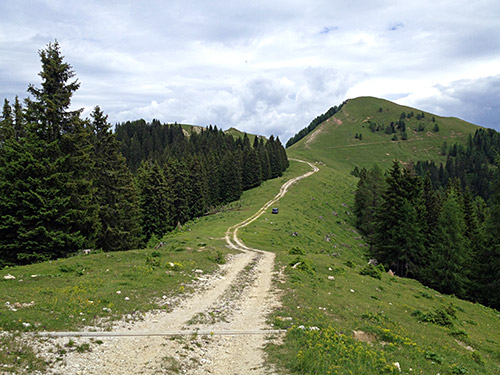 In the photo here is the last stretch before reaching Malga Acomizza/Achomitzer Alm, where the track almost becomes all grassy.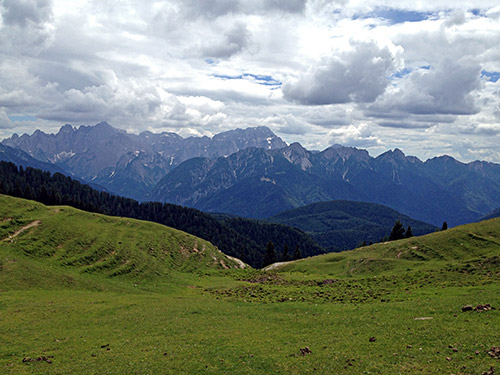 Lovely views south from here.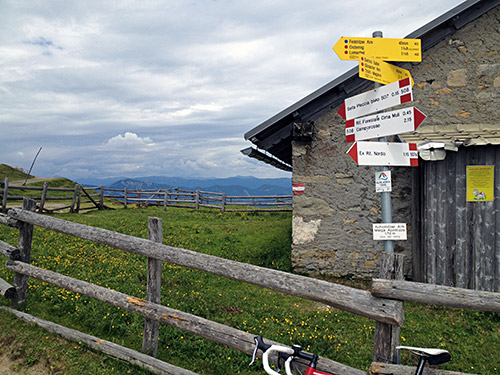 Achomitzer Alm/Malga Acomizza (1710m) (sign 1712m) is at the border and where a better gravel road starts. The gravel road is not very good though, but cyclable with care on a road bike.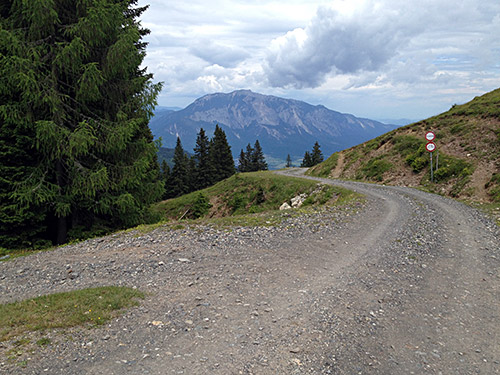 Just below the alp houses you come to the place in the photo here with a sign forbidding cyclists going down the main road here (it also states 'Privatweg'. a bit strange surprise to some hoping to get down here I guess. Now, luckily I did not have to bother as I was anyway planning to go down the much worse road to the left (which looked almost as asphalted on satellite images I had consulted beforehand, but wishful thinking does not help much.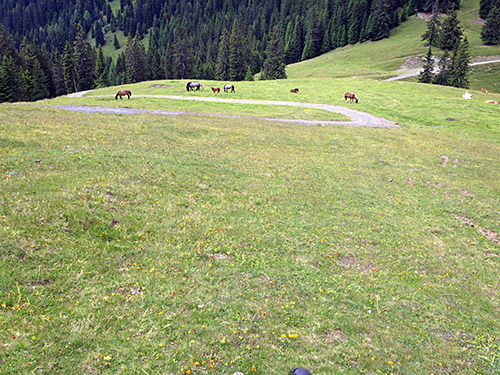 After a bar across the steep gravel road down here the road got better, but still I decided to simply walk down the grassy meadow here and say hello to the horses on the way down. Also I met some walkers coming down the opposite (steeper) meadows across the pass you see below here, which is Sella Pleccia (1616m).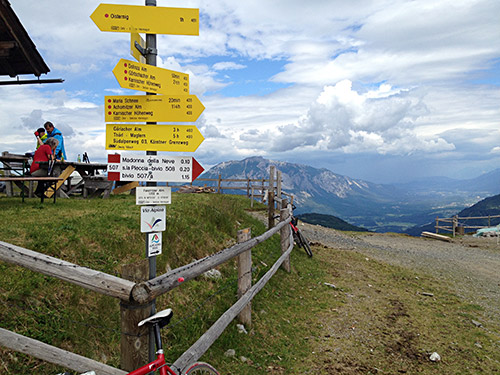 I walked around the houses with the bicycle to see if any sign noted the pass Sella Bistrizza/Feistritzsattel (1715m) with the pass names, but the sign here only say Feistritzer Alm (1722m). (Sella Pleccia had a real pass sign though that I have on photo, but not here.) The road to here were just about good enough to use with a road bike. I stopped for a beer and talked with a mountain biker for a while who were waiting for his wife to arrive (I believe). Great views here.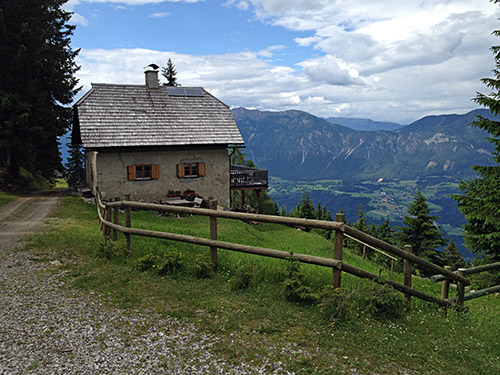 The mountain bike man told me the bitter truth that there would be no asphalt until the very end of the descent from here and that no other road up here were better (but worse). I had originally planned to visit some more nearby places and passes on the ridge between Austria and Italy, such as Sella di Lom/Lomsattel (Dolinza Alm) (1478m) (but the road to there from here would likely be a lot of walking); Sella di Gais/Gaissattel (1634m); Poludnig Alm (1729m); Schloßhüttensattel/Sella del Poludnig (1448m) and Egger Alm (Sattel) (1412m) from where an asphalted road goes down in two directions.
But I wanted to try and not get too get lost and not get too far behind in my schedule today, so down I went on the quite dusty and long gravel road, but I cycled it all for sure. Then I cleaned the bicycle up at the bottom of the Gailtal near Nötsch (553m) at a gas station, using the high pressure cleaners as usual. Almost crashed when I went away from there without using the brakes, which I have learned is no good after having washed the bicycle like that until it dries up a bit. Then up the Bleiberg pass (926m) circumventing the Villacher Alpe and the Villacher alpenstrasse I had planned to also visit, but not this time. Stopped for a late lunch break by a Spar grocery at the top and then down via Villach.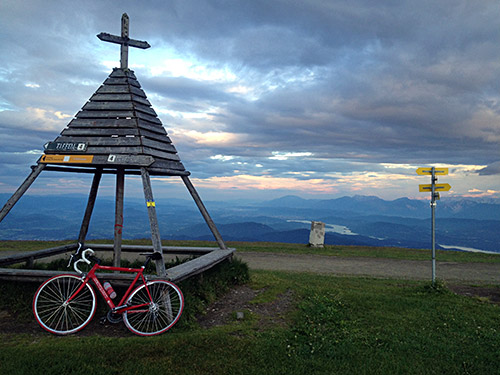 I really wanted not to also miss doing the Gerlitzen climb and even if it got a bit late now. I even stopped a last time for a coffee at Innere Einöde (605m), where the real climb up the highest road to the actual top of the Gerlitzen mountain starts. At Hundsdorf (858m) the Gerlitzen road leaves the main road up the valley and now it starts to become steep at once. There is a short descent to cross a river and here is the toll station, where I had to go under the bar across the road (no personnel there). Then it is a nice road, but then enters the woods soon and stays in the woods until not long before the end. Very few people out this late in the evening. The climb was long and it got a bit cold as I got higher up.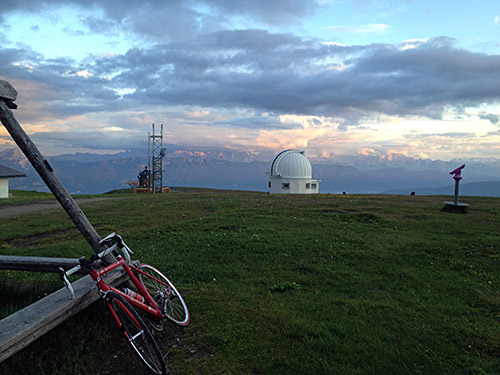 Just as I felt I was getting close, the road turned to gravel, which I had conveniently forgotten about. Oh well, not many high roads totally without gravel I still have to climb apparently. The gravel was fine here though. But the last stretch prove to be a long quite steep ramp where I really had to be determined I wanted to get up to be able to do it. I did it and was thanked by great evening views as you can see here. The descent was cold as I did not care to put on my wind jacket. It had gotten colder quickly in the evening, but at least it was still good temperature when I got back to the start of the Gerlitzen road. Then I went up the Innere Teuchen (1033m) (unnamed pass) hoping to find a place to stay at along the road, but nothing seemed promising (just as I had a feeling of after searching beforehand on the Internet).
I felt sure there must be some place to stay at in Himmelberg (which was also the planned destination for the day) so I hurried down there in a furious speed to try and get down before it got all dark, but the road only gradually descended so it took a while. It turned dark just as I reached Himmelberg. I looked around and went down the village and went straight into the open pub there to ask where to stay for the night. Apparently there had been no less than two gasthaus in Himmelberg, but both had closed down. It seems like when the old people stop running the places there are not many young people wanting to continue the operation and it si happening in many places around here at least. After a while when they tried to call another place in the next village and suggesting a place somewhere out in nowhere which was difficult to explain the road to, the lady owning the pub said she was soon on her way home and happened to live nearby this hotel, so I left the bicycle at the bar and got a ride there and back in the morning again. Great!