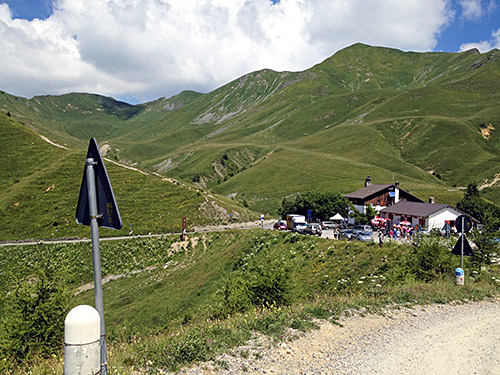 A nice morning and weather promising to get hot during the day. Nice stroll down the Val Camonica to Breno. I followed the main road down to before Capo di Monte, where I misunderstood that one was supposed to cycle down to Capo di Monte instead of continuing on the main road that now is forbidden to cyclists (I think). I could have turned off at two places later on, but decided to simply go down to Breno as it was easy enough and without too much traffic. There were a few boring tunnels though on the way there.
Down in Breno (330m) I stopped by the Crai grocery in the centre and had to wait in line a long time for getting a sandwich, but got a good one at this very well-equipped grocery. There is a steep road sign-posted for Passo di Croce Domini just a bit before in the centre and thus went back there to start the classic climb up this pass that I have climbed once before on this side. I took the straight continuation (the old main road, that is no only one-way up in case one wants to use it) and of course I had a local car just at the most narrow place (I guess he thought the same …). Then it is the normal road through Pescarzo, after which the road becomes a bit more narrow again through Astrio to meet the more modern (I think) road up from Bienno.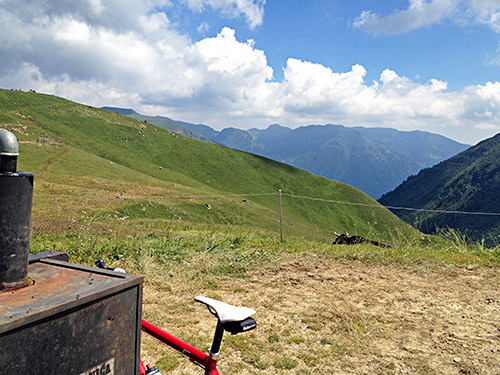 Then it is a nice and big road up to Campolaro, where I think the road turned back to a narrower road again. There were a very small shop open here, but I did not stay. Then I cycled past another cyclist up through the nice hairpins before Bazena (Rifugio Carlo Tassara/Albergo Bazena (restaurant)), where the road is flat for a short while, before the last climb up to the Passo di Croce Domini (1894m) (the asphalted road here continues up to Goletto di Cadino (1937m)). It is a long climb, but not as hard as I remembered it, but then this was the first climb for the day.
I stopped at the rifugio by the pass which was crowded with many tourists and the service here were not exactly good, but at least I got a beer (just like last time I was up here). Some other road cyclists were also hanging out here, but contrary to them, I presume, I was not going to continue on the nice and easy asphalt road, but instead took the exciting and very popular gravel road (which is actually the main road (SS 345)) where one meets many motorcyclists, mountain bikers, walkers and cars on a fine day. It is worth noting that this road is perfectly possible even for people with road bikes, but it is worst near the Croce Domini. In the first photo I look back down to the pass.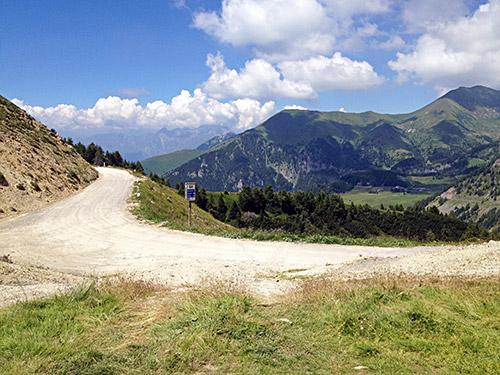 In the photo here and above I am visting the first pass, just by the side of the gravel road, called Valico Poffa di Rondenino (2012m). This road is famous for the many passes along its route as it winds its way along the ridge down to Passo di Maniva and beyond. I made a point about doing some documentation for my account on the High Alps pass list to get the entry more accurate than before. The situation is rather complicated to document as the official maps are very incomplete and references are often from walking guide books.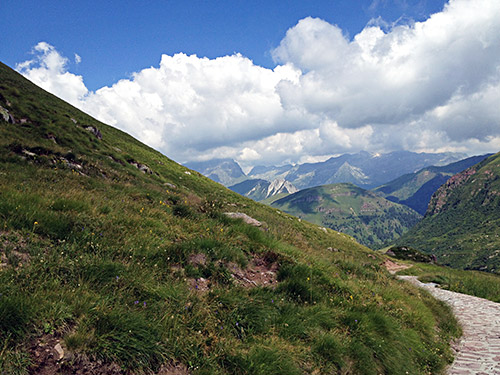 The gravel road goes a bit up and down and after a while along the gravel road where it is rather flat you will see a track going up the mountain and it is laid with concrete and stones for the most of the stretch. I cycled a bit up here but the gravel section was too bad, so I walked the last part up to the Passo di Rondenino (2040m) from where the views were great as you can see here in the photo and in the one below.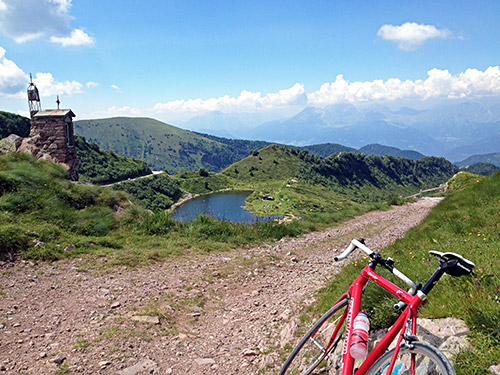 Yes, the gravel parts were a bit too rough to use with a road bike! Still an easy to access pass above 2000m for road bicyclists. Next comes a dubious pass claimed to have a pass anme by some cyclists, which is the Passo di Lavena (1992m) (which I previously thought was the possible pass after Valico Poffa di Rondenino, but that is at 2019m). This is where you cross above the Lago di Lavena. Then less than a kilometre later the asphalt returns where a gravel road goes down off the road. Here you can also find the only water tap along the road at all that I know of, so stop and fill up.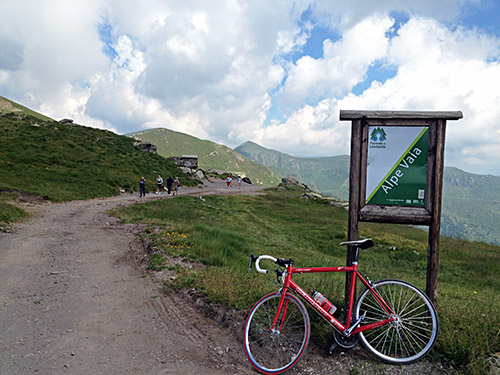 It was now nice to be able to climb up a few serpentines on the nice road and go off the road 65m on a gravel road to get to the location for Passo di Vaia (la Grapa) (2114m). Nice place, and another cyclist came there too perhaps also knowing this is a pass to collect (not sure as we did not talk).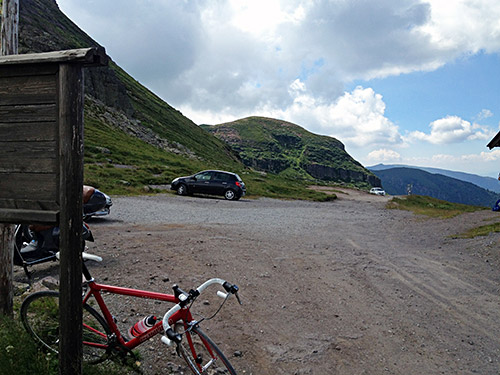 Then a second photo in the direction I came from here at Passo di Vaia, before I continued up to the highest pass on this road, which is the (Goletto del) Giogo della Bala (2136m). Here the asphalt ends again, but the road is flat and good. 425m further on the asphalt returns for good.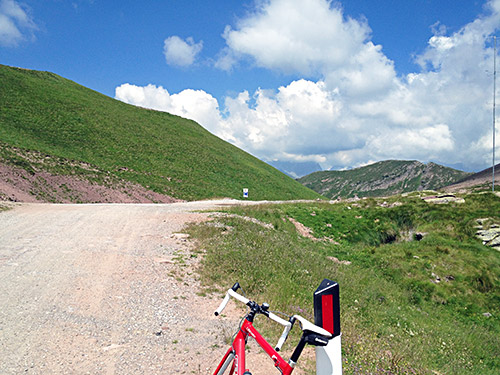 You can sense that the asphalt starts at the exact high point in the photo here to the north.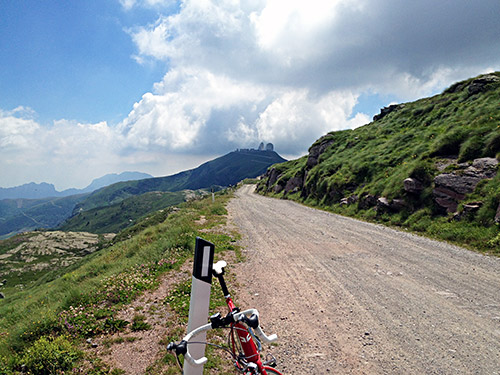 Here is the lovely view toward Dosso dei Galli (2188m) to the south.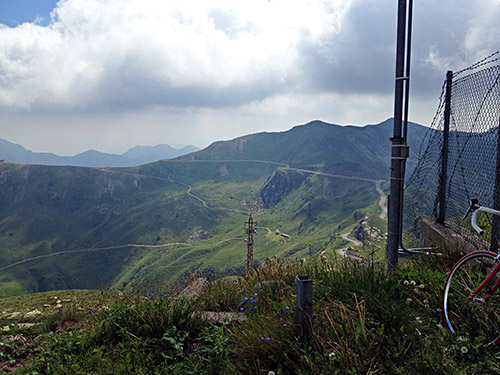 Next was getting up to Dosso dei Galli, which I never did the previous time I was here (and it was also cloudy here that time which was oart of why I did not think of going up there). The access road is closed to traffic, but one can just get the bicycle over the turnpike on the side and then it is easy to cycle up here and you get the best views from up here. This American military radar station was apparently abandoned in 1995 for some reason. Likely it was because of the radar station that the road was paved up here at all. Now the asphalt is no longer so good, but that might be due to the current economical situation in Italy and one can always hope the road will continue to be accessible for road cyclists.
In the photo here you see the next two photos going south on the main road.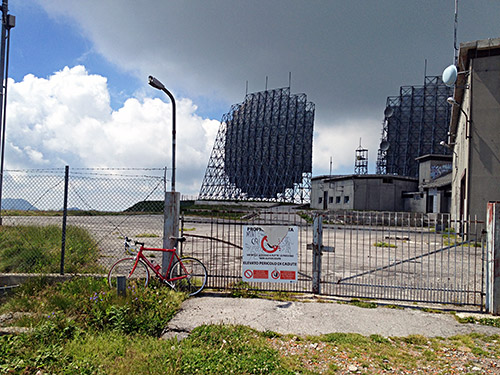 The radar station looks very much abandoned!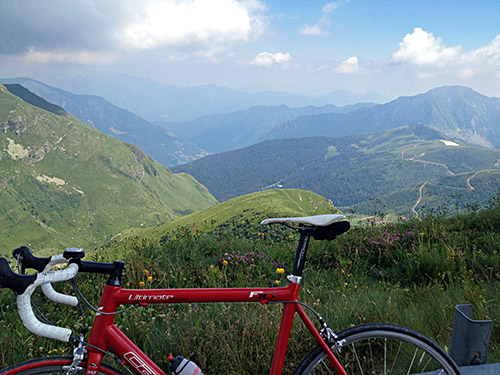 But the views are lovely – here down toward Bagolino.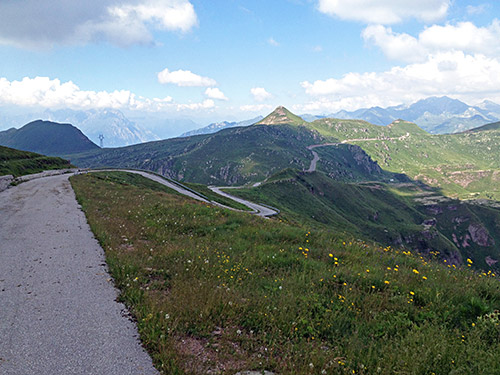 And a last view looking back from where I came.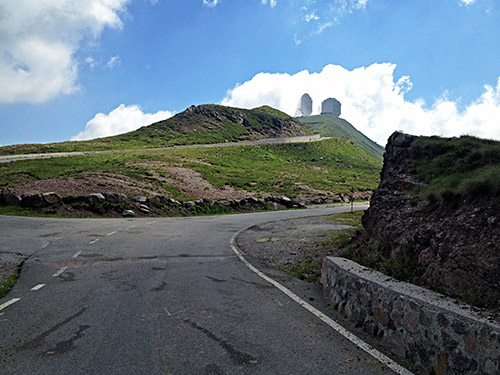 At the start of the Dosso dei Galli climb is another pass called Sella dell'Auccia (2108m).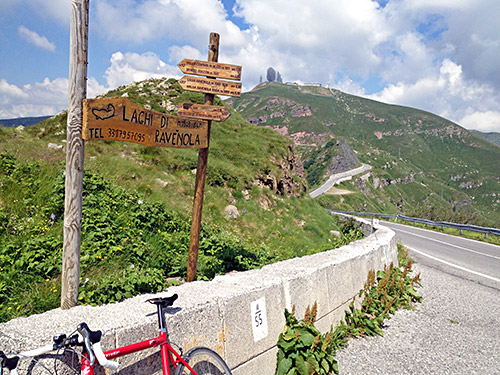 After a short downhill to 2051m there comes a new pass "seen" in the photo from Dosso dei Galli, which is Goletto delle Crocette/Goletto di Ravenola/Passo di Dasdana (2072m) according to maps. A book (Prealpi Bresciane by Fausto Camerini) calls it Passo di Ravenola and notes that the Goletto delle Crocette name is the old name, but that it has not been used since the 50's, but as one of the most used maps of Italy (the TCI atlas) still uses that name, I guess people actually still use the old name very much.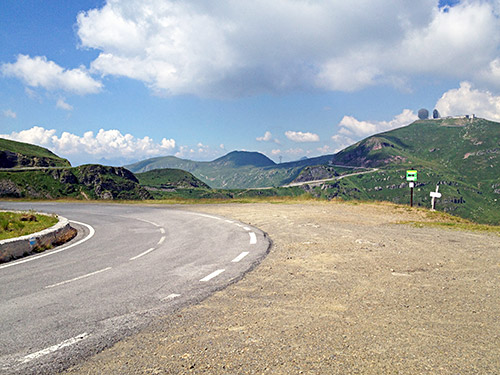 Here is the next pass just where you say goodbye to the view of Dosso dei Galli, at Passo del Dasdana (2086m) (real pass is some 30 metres down the side from the road at 2070m, but you are at the "pass area" even staying on the asphalt road, even if you do not descend on the northern side).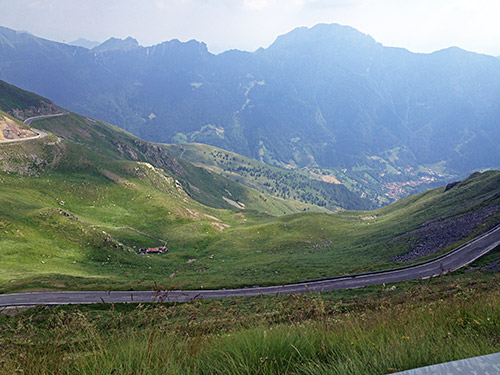 Now I got the first views down Val Trompia from where I have never climbed up here and that is something for another time as I wanted to go the same road I did in 2003, but in reverse now.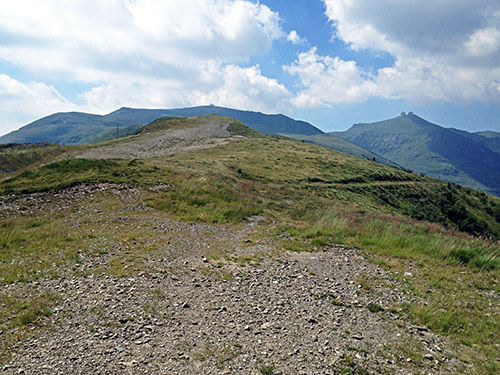 As I was in documentation mood this day, I decided to walk up an totally pointless pass on the way down up to Passo del Maniva (1809m), which of course did not add anything much, but it did not take so long to get back again.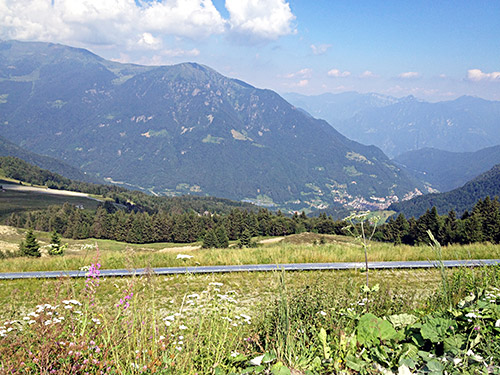 Then down to the most well known pass here at the crossroad – Passo di/Giogo del Maniva (1660m). There is a road down to Bagolino here and I had to roll over the flat plain at the pass to make sure it was indeed there as I have never climbed it and it is rarely mentioned and there is nearly nothing about it being asphalted on any map or anywhere on the Internet. Going over from Bagolino to Val Trompia or the other way around indeed seem to be missing the point of going up here at all.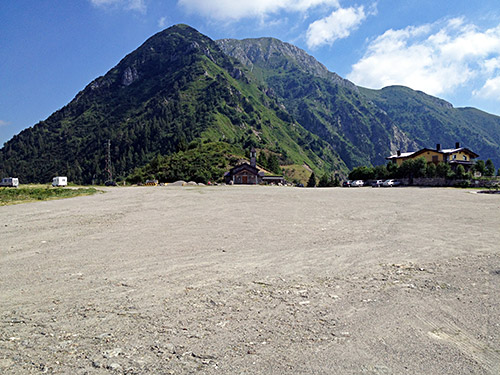 Here I got a nice view of the pass, I think. Otherwise it is not the nicest place. There are two restaurants here and guess the one in the photo here is the best (that is where I got water in 2003 anyway).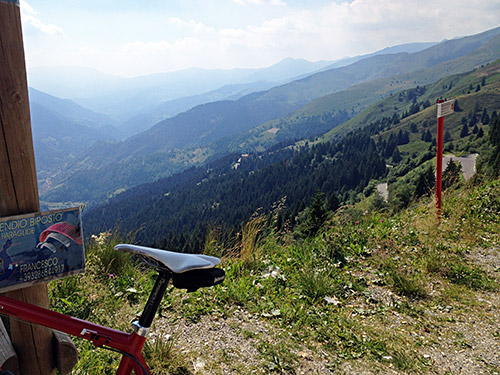 Here I look down Val Trompia at the start of the continuing road along the ridge. This road is now much more narrow and in a pretty "experimental state" one could say.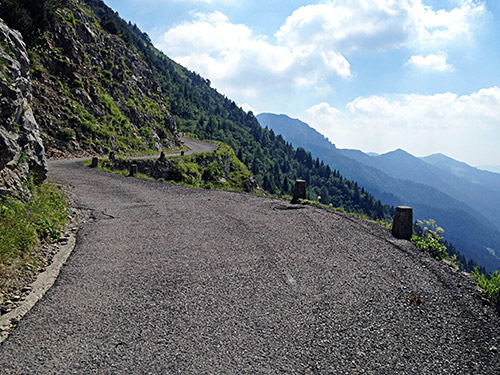 Here is a photo on the way up to the next pass and last climb for a long time. It is hard to make clear just how dubious this road comes across when cycling up here. It does not feel like very reliable and apparently it has been fixed up since I was here in 2003, but the asphalt is in now sense better anyway, so likely that was due to some landslide or rocks falling. No kind of safeguards here and if this is not bad enough (sure it only gives false safety for cyclists anyway), it will soon get even worse.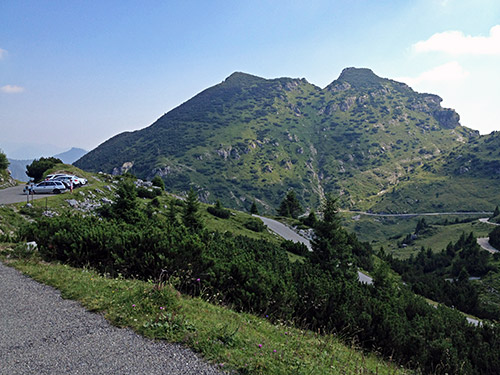 Soon I arrived at Passo del Dosso Alto (1727m) (there is a funky pass sign here with the wrong height at the parking place). Here the road is good and for a while down from there.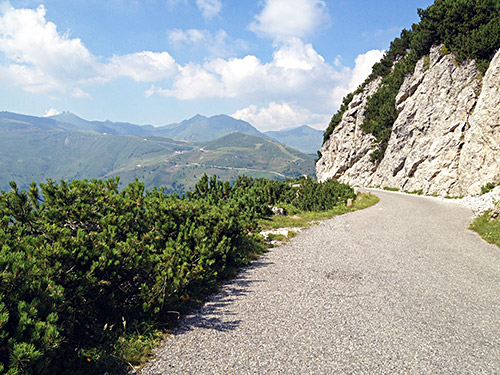 Here the last view back and indeed the Dosso dei Galli is still seen in the distance.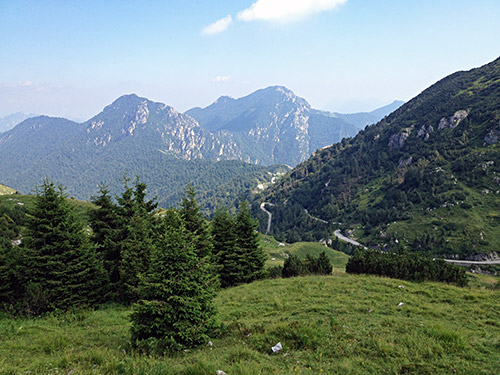 In this photo you see the ridge below toward which I am heading to. That looks benevolent from here, but that is where the road is trickiest anywhere.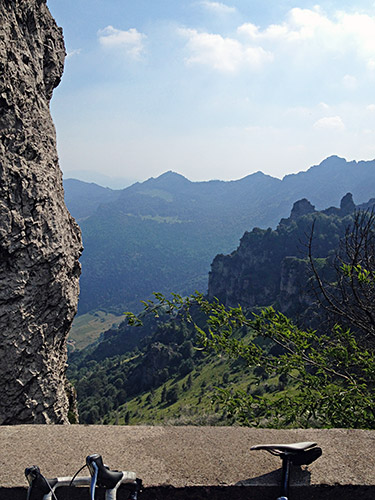 This is such a spectacular road so I had to stop for many photos. This photo is from the start of the gravel by the Passo della Berga (1527m). The gravel section is only 1.2 km, but it feels like it is lasting forever. I got the idea that the people responsibly for this section of the road only got one guideline to adhere to: make it as dangerous as it possibly could be done for road cyclists, and please focus on making this just like hell for them and no one else! If that was the intention in how they "improved" the road after the landslide the year after I had been there (learned about it in 2010, when it had been opened again just the year before), then they should get a medal! It is just about possible to handle the road with a road bike even if it looks ok it is very easy to fall off at just the not so good place and this section is also "fortunate" to have plenty of such places.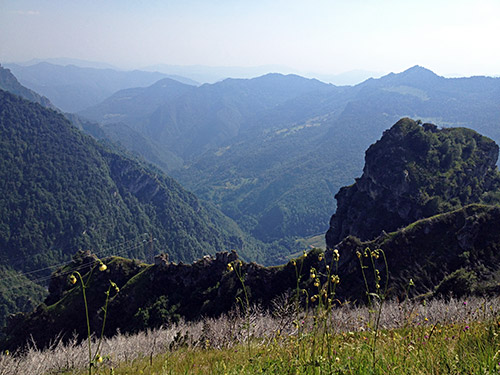 I was lucky and made it over to where the asphalt starts again but it was not without effort. I might have exaggerated a little and the road might be more compact when you get there. In any case do not let this gravel section stop you from visting this great road (scenery wise). You should not go in this direction!! You should go in the direction I went in in 2003 and starting in Anfo!! This is even more so now as the road up from Anfo is even worse now than in 2003 and that matters.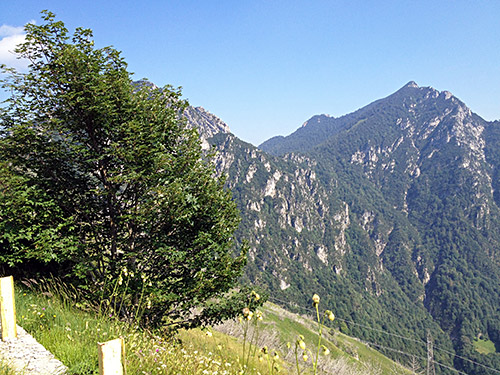 A few more of the photos along the road. I stopped a bit more when the asphalt returned.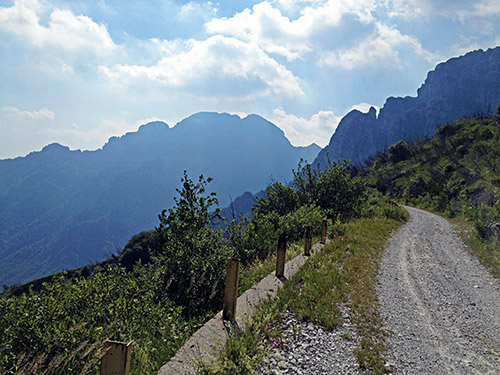 Looking back and here the road does not look dangerous.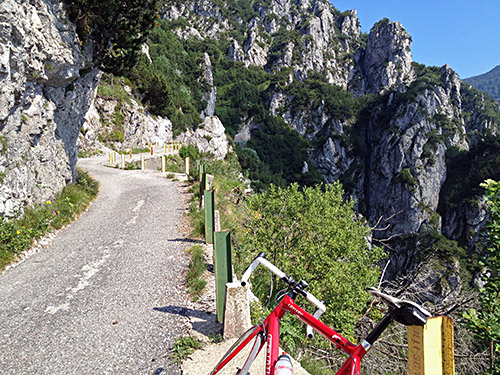 Thank god!! Asphalt again and for good now. The tunnels here have been fixed up somehow and looked better, but somewhat improvisational fixing it seemed like … .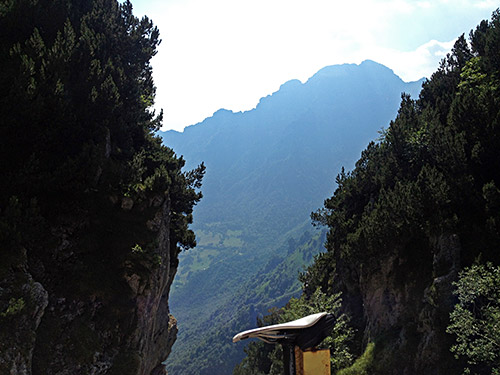 The mountainside is pretty steep here.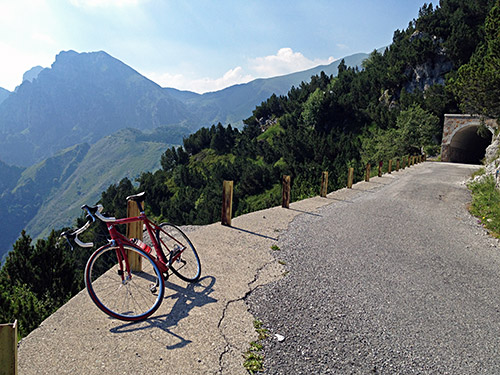 Out of the last tunnel and a photo from the same place that I took a photo here in 2003, where I was a bit surprised when this view opened up when coming out of the woods up here to Passo della Spina (1521m).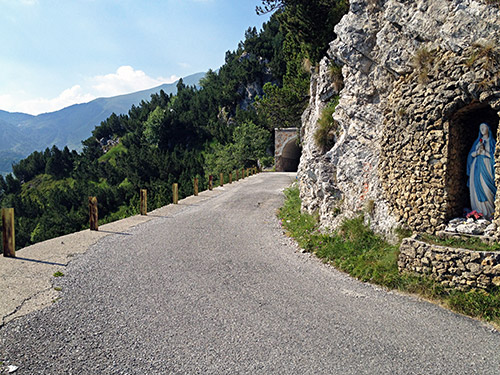 Here is a madonna strategically placed and somehow it almost feels like it is meaningful … .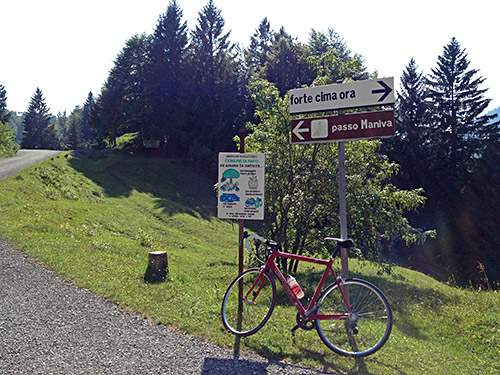 Passo di Baremone/Passo del Mare (1418m) is really surprising in how boring it is as there is no place as boring as this along the whole of the road from Breno to Anfo. There is a restaurant up here.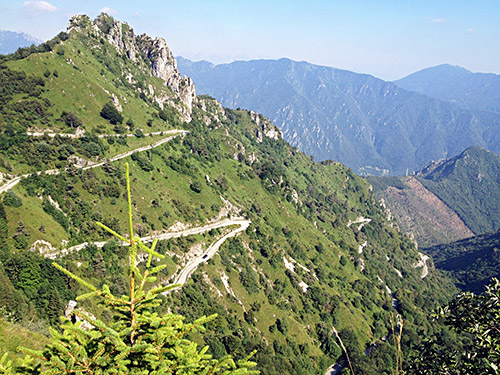 Soon after this pass one descends rapidly on a fascinating, narrow, but bad asphalt road to Anfo. On the way down one comes very near two more passes: Cuca del Frinc (1288m) and Cuca Chetoi (889m) (the first was on a private access road and the second perhaps too, but they are like max 50m from the road).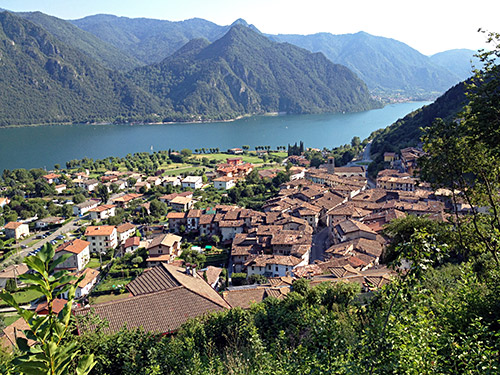 Just before Anfo (392m), I turned down to the village on a direct small and steep road. Just opposite where I came out between the houses were a small grocery shop where I bought a soda and sandwich. It had taken me the better part of the day to go here from Breno with all the stops, detours and photos. Now it was like 18 pm and I really wanted to do one more climb this day to try and make sure I was at least still only one day behind the plan, which is much enough trying to do what was left for two days in one as there was only one more day left now until Cortina.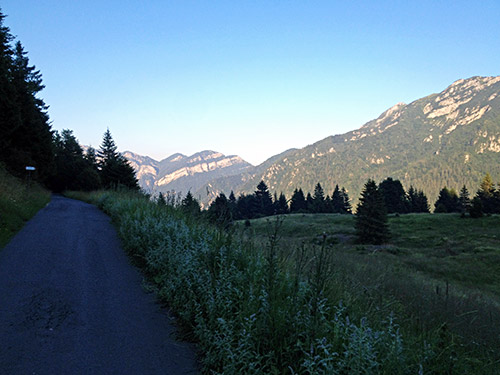 I went quickly up the road toward Storo along the Lago d'Idro. The road climbs to 443m by the big road to Bagolino before it descends to the northern end of the lake, where I got down on a cycle path I had noted in my plans and tried to go straight ahead and follow the bicycle path over to the other side of the big plain here.
Now I found the right way and the small bicycle bridge they had built here – the only problem was that they were working on it this late in the day now, but I managed to be allowed to pass over with some others. After some criss-crossing I got to the start of the next climb on the other side of the north side of the Lago d'Idro, at Baitoni Inferiore/Porto Camarella (374m). The climb here goes to Rifugio Alpo and is considered to be a really hard climb too. This is really the only BIG climb I had left to do anyway near in this part of Italy now, so I really wanted to have this done.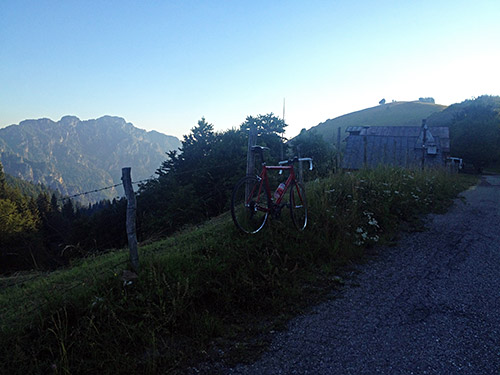 The road up to Rifugio Alpo hit me a bit by surprise as it was the best asphalt road I had seen for a month in Italy and reminded me of the times back in early 2000 when most roads looked like this. However, it was also not very steep and the road was wide. This wide and not so steep road ended by Bondone at the height of 744m. From there it is a really hard climb on a narrow road, but it is nonetheless still very well asphalted.
There are however two concrete sections (I think there were two) and the last of them is where the road is steepest and here it exceeds 20%, but it is not 30% like some have stated and which made me a little dubious about whether I could make it all the way. It was still hard getting up here for sure after a day of cycling. Be sure to not exhaust yourself before you arrive here or you may get into trouble! The photo here and above is the from the highest points on the road going straight up to Rufugio Alpo (1481m). This road continues asphalted to another set of houses ahead at Fienilii Spessa (1384m), where I did not go as it was too late. (Arguably there is a small pass on the way there at 1408m.)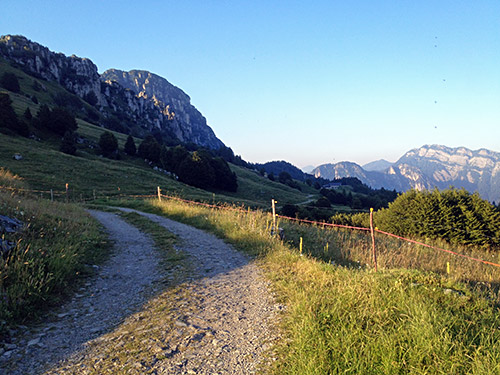 Instead I went back a little and up a road that is quasi-asphalted and the asphalt then ends just before it reaches the top and then there is a very short stretch of gravel to another pass-like place here – Pozza degli Scongiurati (1517m) and it is the highest point you can get to around here. Oddly enough a German van had passed me by on the way up and they had went up here. They were here for glide flying I believe. Here I am looking back toward where I came up.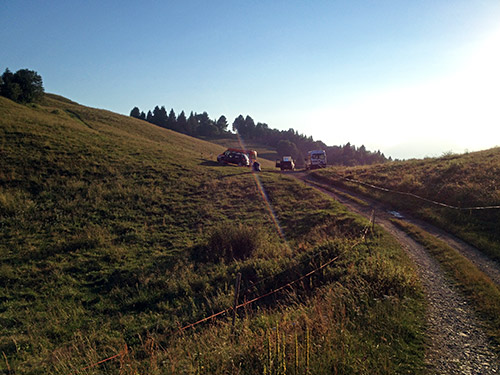 Here is the Pozza degli Scongiurati.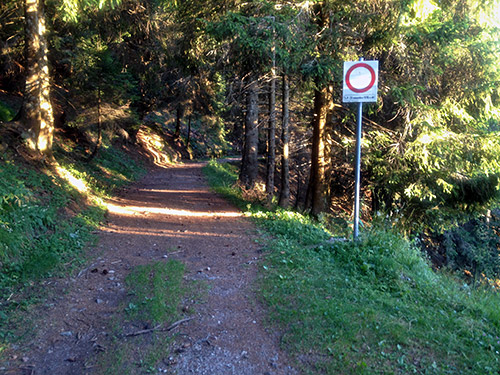 It was late now, but I felt like a curious guy and had not been able to make sure exactly how the road toward Bocca di Cablone (1755m) looked like and went there and there is also a pass one the way there, which is the only officially named pass up here. Even though the forest road looks nice where it starts (at ca. 1500m height), I know from some photos that it will get worse higher up. If this road over the Cablone pass had been made asphalted it would be a terribly cool pass climb! So I returned on the oddly well asphalted road here even though there is no house that it goes to.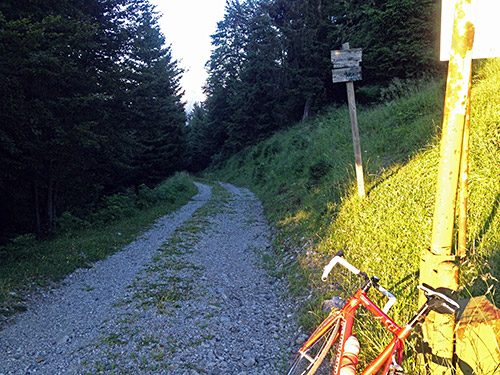 Here I am at the Bocca dei Grii/Giü (1470m) which I had studied so much hoping to get down the other side here to make a shortcut that might not be so long, but in seeing the road down here it really looked bad and I knew that there would likely just be a path on a section lower down. Considering it was already 8 pm, it was just not an option to try my luck walking down here and not sure if the rod would get better before reaching the valley below, which would possibly be like two hours walking and then it would have gotten dark.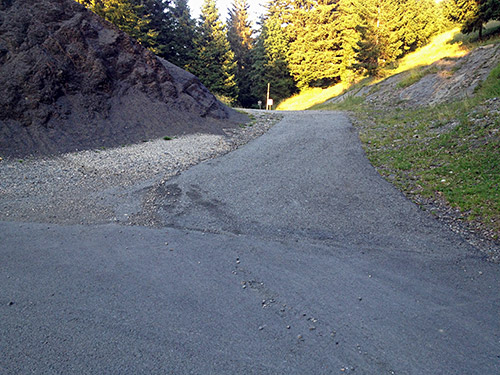 Here, just for proof, one can see it is all asphalted up to the actual pass itself.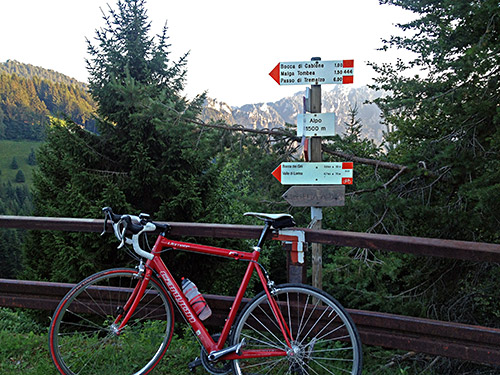 Then finally the Alpo sign saying 1500m but it is placed at 1440m height at the crossroad for Rifugio Alpo, Bocca dei Grii and Bocca di Cablone.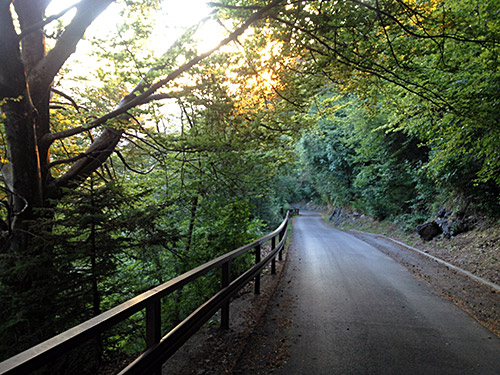 I had to take the long way around Storo (389m) to go up to the Passo d'Ampolo (747m), but I am sure it was the right decision after all. I really desperately wanted to get up here, so I did not look after a place to stop at in Storo even if it turned dark now. Great light on the way down from Alpo to Bondone in the photo here!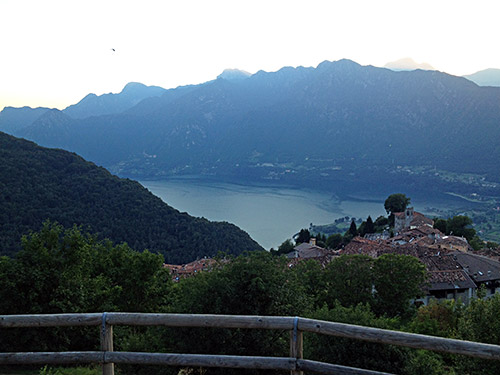 Here a view over Lago d'Idro from the helicopter landing place just above Bondone. I think there were one or two wind gliders up above there still.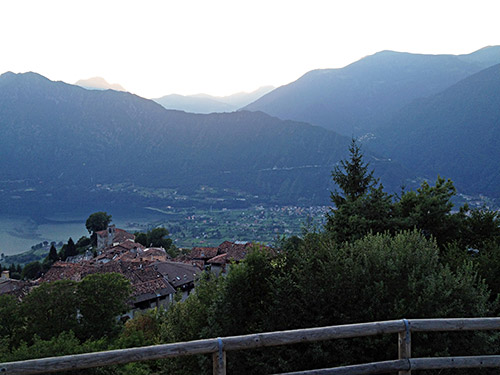 And a last photo looking toward Bagolino. I kept a very high speed up to Passo d'Ampolo (747m) and indeed tried to go as fast as I could in order to try and minimize the time for getting to the pass. (The actual pass is not located where the sign is by the turn-off for the Passo di Tremalzo, but close to Tiarno di Sopra – the height is right for the actual pass though.) I got to Tiarno di Sopra (749m) totally exhausted and started to try and find a place to stop at. I had actually located one place when planning and it was the one I also found now. It did not quite look like anything else than a camping site, but I was lucky to catch a lady there before going on and she confirmed it was also an albergo. So I got a room and then hurried off before showering to see if I could get something to eat here.
The bar across the river could give me something to eat after some discussion and they were very nice and good! I had a beer later in the bar before I walked back to cleaning my clothes, showering and going to bed. One more day now, but I had a plan for how to make it work as I had looked up some train times from Rovereto to Toblach/Dobbiaco and told Enrico waiting for me in Cortina about it.