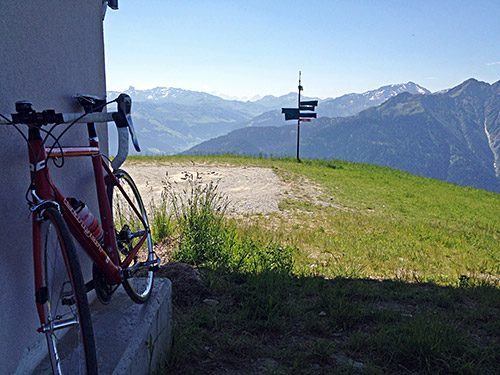 Another day for beautiful photos, but also very hot again. Stopped for a coca-cola at once in Villard-sur-Duron (705m), then took the planned route up to Mont Bisanne/Signal de Bisanne (1941m). After a short climb there is an asphalt road taking off the main road to the right (no signs) and that is the road to take to get up the shortest and steepest way (somewhat steep at places). After a while I saw two other guys coming up behind me, but they did not seem to close in much on me, but I also raised the speed a little. It was perfect weather now to climb up here.
Then out on the main road (D123) again. After some more climbing there are two roads taking off to the right again, the first of which does not go up, but the second is the natural continuation of the previous shortcut, but as I studied the maps carefully before going here I noticed that here the main road is actually slightly shorter/steeper, so I took the main road, but the smaller road is arguably nicer (with serpentines) and I would take it the next time! The two guys coming up after me also took that road I saw from above.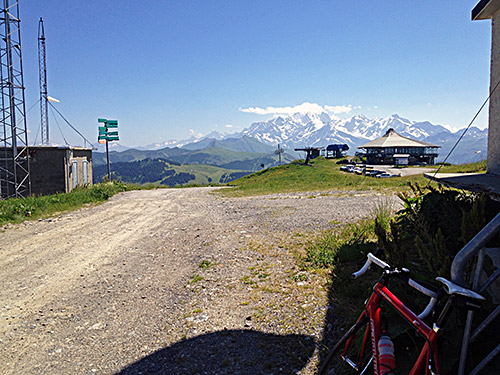 After a while one comes to the crossing with the road from Les Saisies and the road to Mont Bisanne (the D123 is the one going to Les Saisies). Here it gets steeper again on a more narrow, but good road. Eventually I arrived at the top and was happy to see that one could indeed cycle all the way to the actual top by the Signal at 1941m. I stopped for some photos before going down to the restaurant and met the two guys coming up. The first guy up of them was Bastien from the Club des Cent Cols of which we are both members, so we had some discussion of climbs and I suggested they next go to Col du Joly (1989m), which was exactly what they already had planned to do (a very nice pass).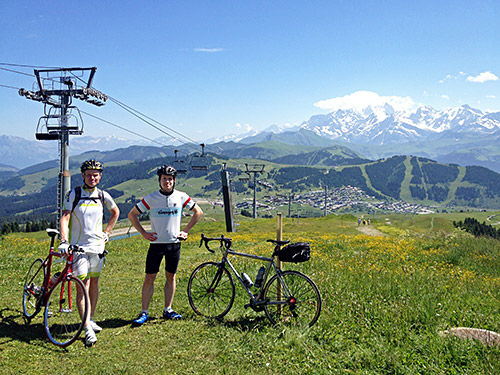 Here is Bastien with me in the photo taken by his friend who was a bit new to bicycle climbing, but was good on taking photos.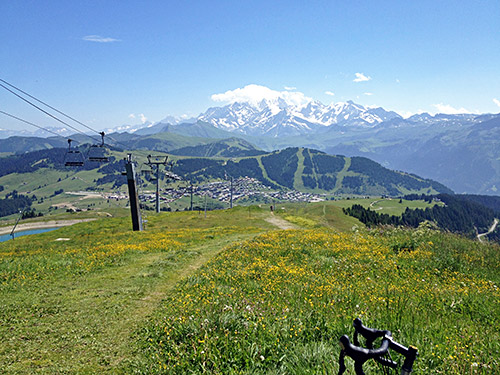 Another photo without us looking over Les Saisies to the Mont Blanc mountains. Bastien's account of the day.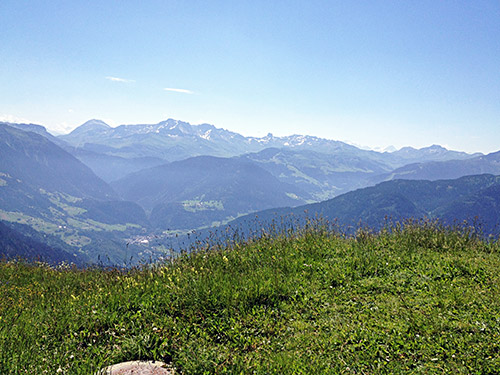 A photo taken in the direction of Beaufort and Cormet de Roselend.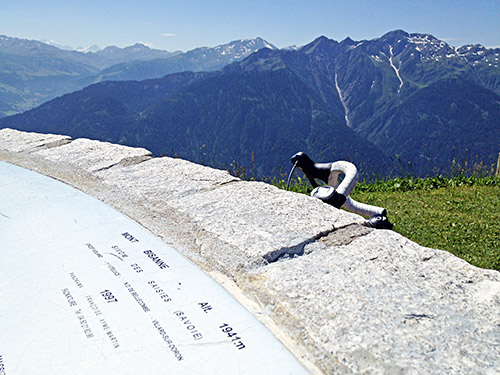 And here looking more straight to the south from where I came up.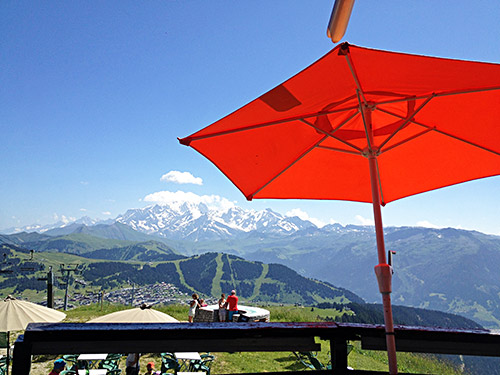 After arguing how to get something affordable to drink at the very expensive restaurant, I got some water and a coffee and was happy to have a nice view and rest a little before continuing down to the awaiting heat down in the valleys.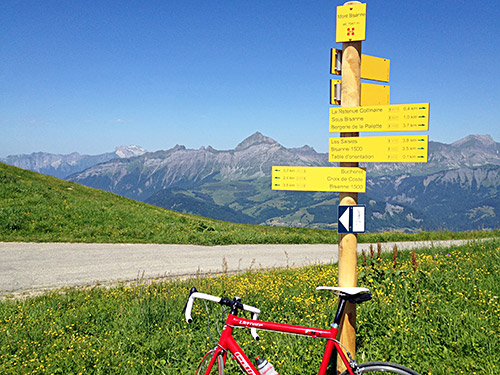 Here at the sign looking north toward where I was going next.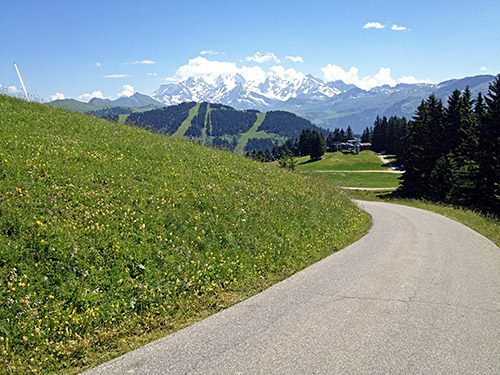 Went down slowly to try and find a place from where one could get great views without any of the ski resort constructions spoiling the view and this was the best point I could find. Soon thereafter I was back on the D123 and went back the same way until Bisanne 1500, where I intended (and had planned) to take the high route around the Bisanne and down to Ugine. For some reason I misunderstood the road to take and started climbing up among the houses, before going back down again. One has to go down to 1450 before following the forest road around. It is bad in a few places with some metres of gravel, but it is not problematic with a road bike, but also no good trying to go down fast. It is also very flat for a long time, but after a crossroad it goes down very quickly. Then turn left again at the next crossroad to go west. Then right at the last crossroad and then down to Ugine (426m).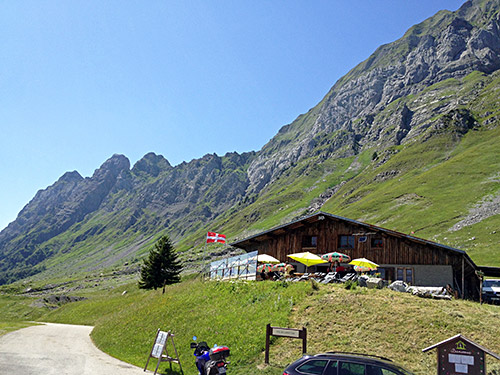 Two cyclists were coming up the last part of the way down and they looked all sweaty already there. It was really horribly hot in Ugine and I had to take it very easy as I started to go into the village where I found nothing open. I did not want to go down to the lower parts, so I decided to just continue hoping I would find a place to stop at, but there was nothing open. Eventually I found a water tap just above Ugine and drank a lot of water and then just continued up. I was terribly thankful that much of the climb was up through the woods (I had thought the landscape should be more open here).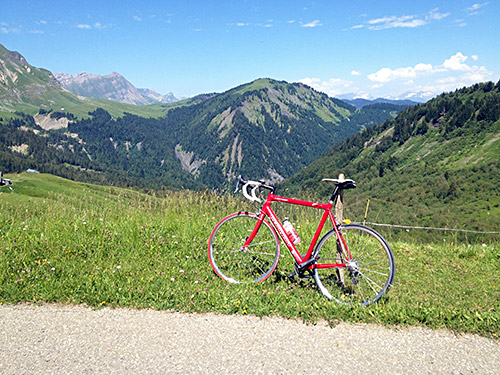 When I was coming up above 1000m height it all felt more livable again, but then I was soon out of the woods. I did continue to keep a good speed though. In the open fields before the pass I met another cyclist, but otherwise no one else was up here in the heat. Then stinging horse flies came to make sure the last part of the climb up to Col de l'Arpettaz (1584m) would be less enjoyable as I had to fight them off all the time for the last 2-3 kilometres.
It was very lovely up here as you see in the photo above of the Aravis mountain range and in the next couple of photos. Even up here it was too hot to enjoy stopping at the restaurant.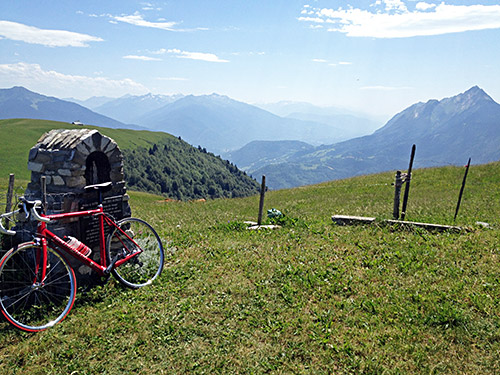 Col de l'Arpettaz (1584m) was now the highest pass in the Alps apart from one down in Var that I had not yet climbed. It is also one of the nicest I had left to do. I had expected more open views on the climb and more regular hairpins from looking at the map. I was also unprepared for the great views of the Mont Blanc and maybe this is actually the road from where you get the best views of Mont Blanc out of all possible roads?!
In the photo here I am looking back over Ugine at the high point (ca. 1590m) of the Arpettaz road just after the pass.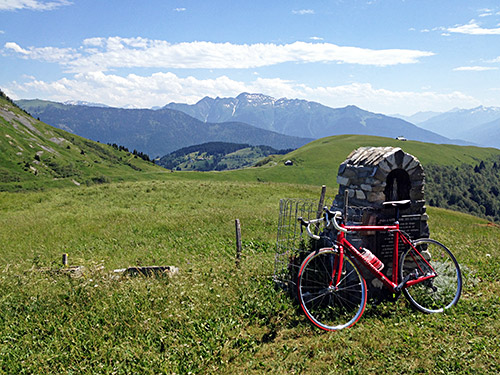 And here I am looking back to the forest I had been coming down through from Mont Bisanne.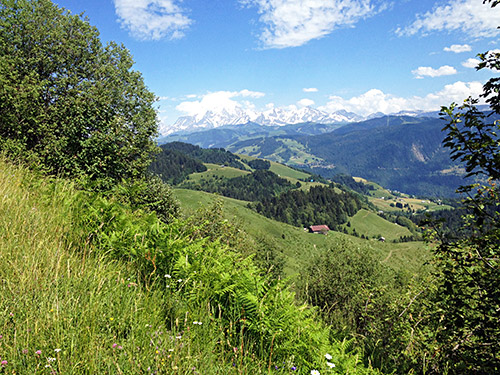 Gorgeous views of Mont Blanc.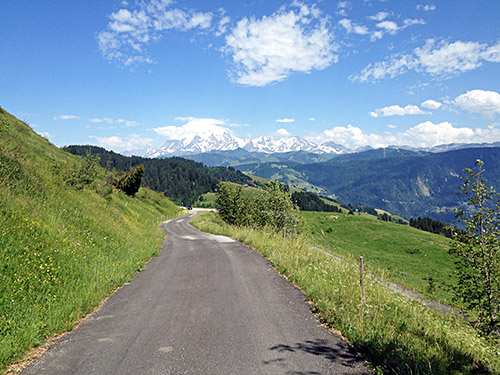 And here again.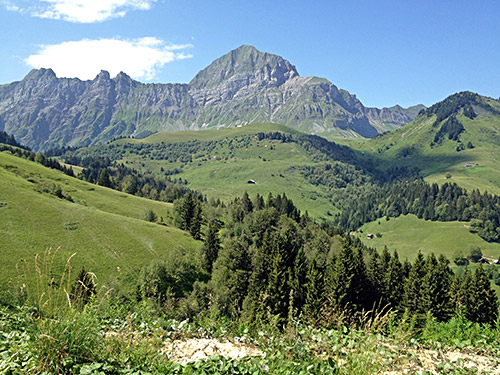 Looking back up the Aravis range and Mont Charvin (2409m).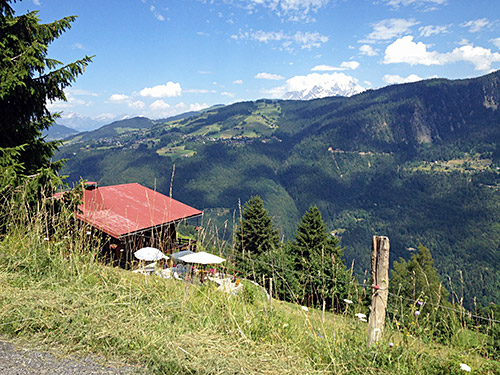 And a last view of Mont Blanc before getting down to the road below, which I at first thought was the main road up to Megève as it started going uphill. The traffic was curiously absent though and soon the road descended decisively again to Pont de Flon (770m) where I was out on the main road. Arriving in Flumet (906m) at the crossroad for Col des Saisies (1657m) and Col des Aravis (1486m), I decided I had to stop for a coca-cola.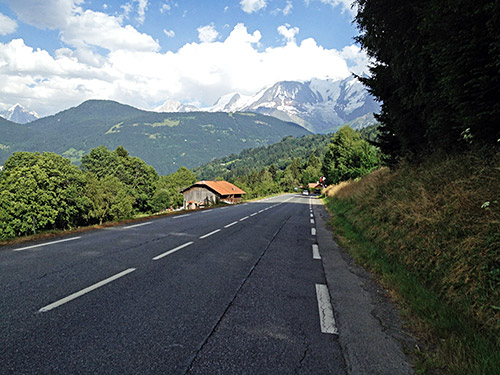 Then full speed up to Megève (which is also a pass with a name for once – Seuil de Megève (1107m)). Here it was hellish with cars (as usual) and the main road is not very good either (before Mègeve) and I decided to stop a last time at the McDonalds and update my sister on the expected arrival time. On the way down from Megève I stopped for a last photo of Mont Blanc (a bit cloudy now). Just a bit further down I had planned to take off the main road a small steeper more direct one to Le Fayet (591m) avoiding going through St-Gervais-les-Bains, but only realised it as I passed it by in good speed and thought I would get easier down on the main road. But there were road works on the main road I later noticed and nearly also smashed up with a car, so I should have followed the plan there.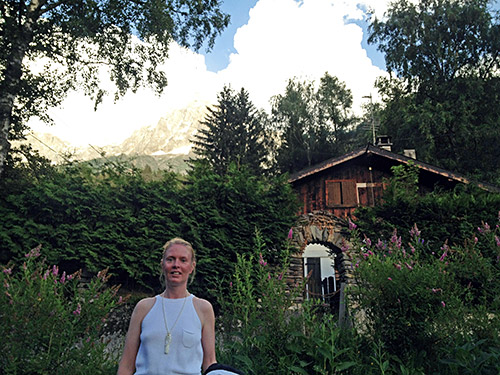 Anyway, I got down fine and then just to cross the big valley floor in the lingering heat and then the steeper last access road from Chedde (La Frasse) (602m). Once up on the D13 to Servoz it all felt easy to get to Chamonix, even though I have learned to hate the road over Vaudagne that cyclists are forced to take when going to/from Chamonix (there is a shortcut up there which is blocked, but may try it another time). I promised myself to next time take the motorway up to Chamonix, but see there is a long tunnel in that direction, so maybe best with the Vaudagne road (1112m) after all (but I notice one could after a few hundred metres on the motorway take off up the Allée des Diligences, which seems to be gravel for a while to Les Houches.)
Les Houches (991m) is a long village! My sister (currently) lives just before Chamonix in Les Bossons up a steep road to ca. 1140m. Finally there around 19:30 in the evening. After a shower and little rest we went down to take the train into the Chamonix centre and meet up with her boyfriend. We had a nice dinner at a restaurant and ice cream on the town before going back for the night.