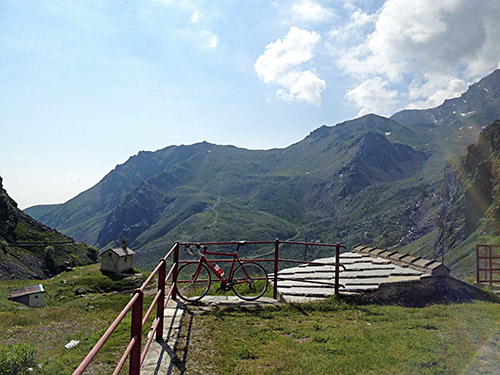 Pian del Re (2020m) in the morning in splendid weather. Only slightly more clear views of Monte Viso could have been wished for. As I started high up I only met a lot of cyclists when going down. Otherwise it is usually me that is sleeping too long in the morning only to arrive when others are on the way down (or later … ). First photo here is from the very end of the road by the rifugio (seen in a photo below). The asphalt runs out at 2013m on the car parking.
This is the source of the river Po that runs throughout the Po plain to the east coast of Italy. Monte Viso/Monviso (3841m) was apparently believed to be the highest mountain in the Alps for along time (it is however the highest in the Cottian Alps). This was since its peak rises so distinctively up from the surrounding mountains 500m higher and is seen from far away in the Italian Piemonte region.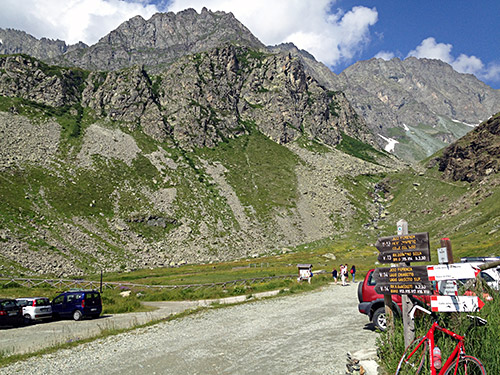 Up from Pian del Re one travelled through a curious tunnel (Galleria delle Traversette/Buco di Viso) built in 1478-80 at the height of ca. 2882m under the nearby Col de la Traversette (2947m). The tunnel was later closed, but opened again in 1878, 1907, 1973 and 1998 (but the French side might not have been cleared and it is also a bit higher and more prone to lingering snow). It is a very short (75m) and small tunnel, but quite an early alpine tunnel. Let the Giro d'Italia and TdF co-operate to build a real road over here! That would made the other Alps passes look rather undistinguished by comparison.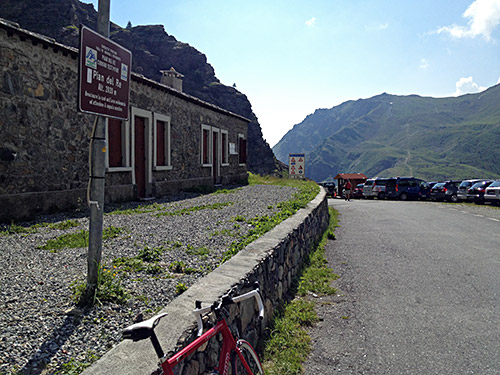 Two Pian del Re (2020m) signs in the photos here.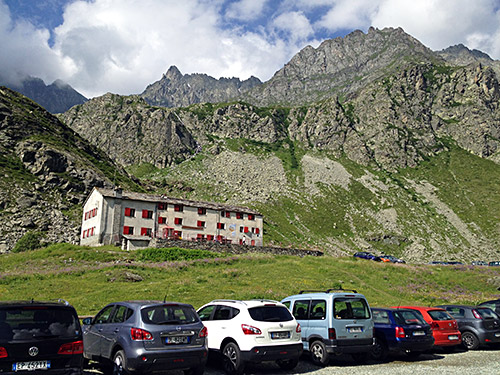 The old Pian del Re albergo.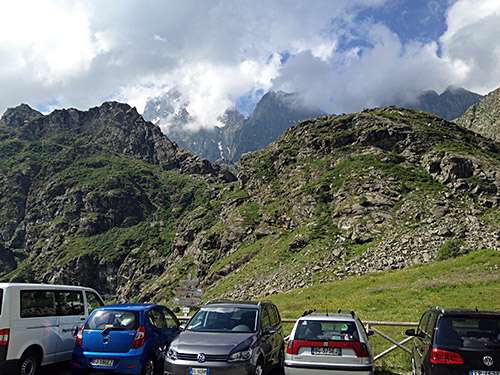 Then two photos to try and catch a glimpse of the Monte Viso peak which wanted to hide away a little this morning. Cars are tightly parked up here and you have to pay to stay here with a car.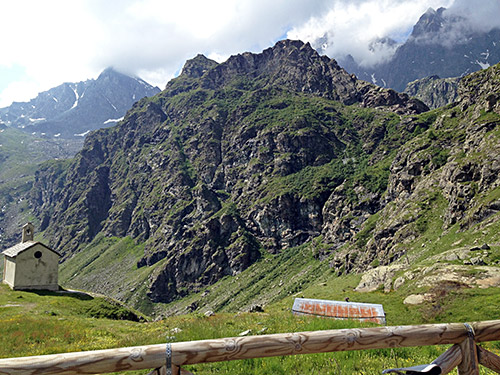 The last part up the valley is really nice!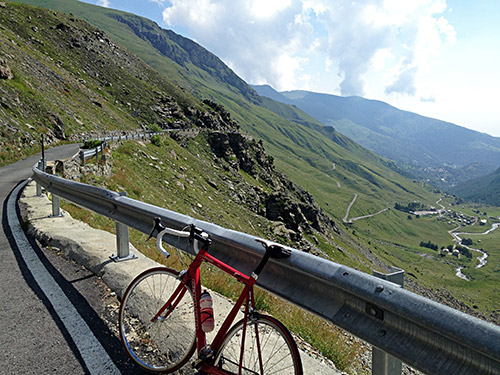 The descent was also great. Now it started to get warm down the valley and the cyclists coming up looked sweaty. I had cheated a little by starting up in Crissolo though, but my day was not ending here.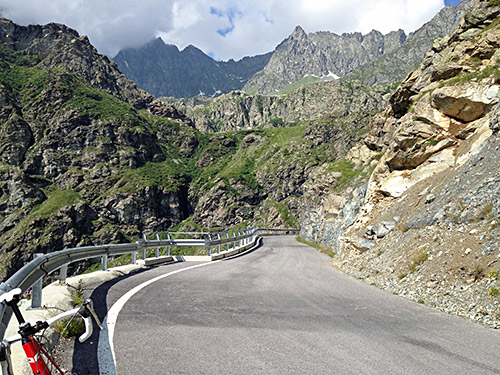 I stopped for more photos on the way down, but eventually just got ahead leaving the nice place behind.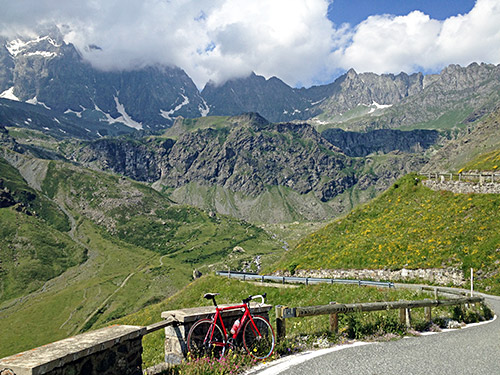 I did remember on the way down that I had indeed planned to climb up an odd side road in the valley here and that did not feel tto right after having done the main climb in the valley, but after stopping at the turn-off for Oncino, I decided I should not skip this climb. I had decided that there were a pass above 1500m at the end of this asphalted road, even if not in name, so to be consistent with my ambitions, I should do the climb. The road also looked a bit inviting and it should be a decent climb with possibly good views.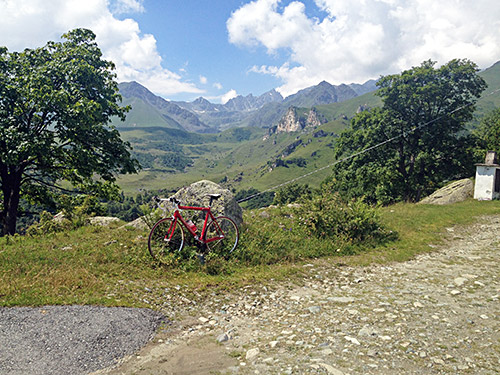 Indeed, Meire Tirolo/Ti reul (1598m) is a nice little climb from the Ponte Laita (896m) in the Po valley. IT is a rather narrow road, but with a couple of cars going up here. The road later splits into at least three ones. I followed the main road to Oncino. Above Oncino (no open bar or anything really) the road becomes better, but also much steeper. There is a big new sign saying Tirolo/Ti reul at the only place where you have a choice of roads as if you will be going to some real village.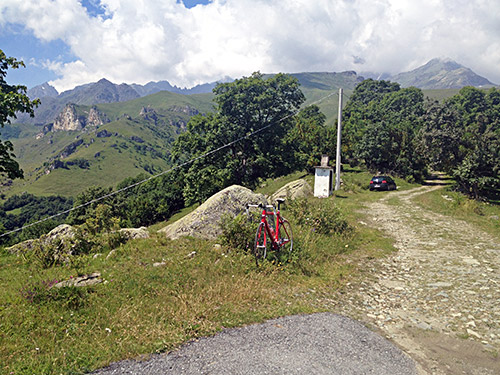 However, there are only a few lonely houses along the road. Once you get up from the steep road in the woods and the landscape opens up it is really marvellously nice. So that was a pleasant surprise – even if I had hoped for some nice views, I did not realise it was quite this nice here. Unfortunately the asphalt road ends when you reach the ridge and there is a track/gravel road continuing slightly up the other side, but there are also paths down the other side and the land is decided higher further out on the ridge, so it is really a pass of sorts. And even if you do not care about passes, it is still a nice place to visit and a much less travelled road than the main road up the valley.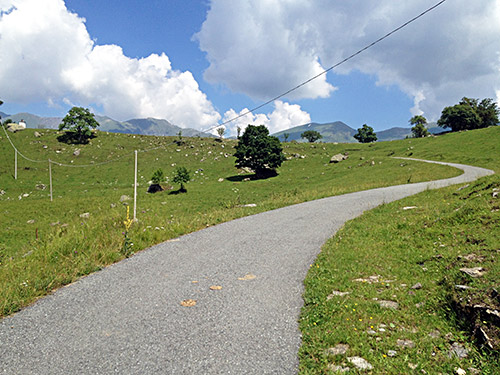 I did in fact meet one cyclist on the way down from Oncino, much to my surprise. The road is slightly dangerous in places, so take care here when going down.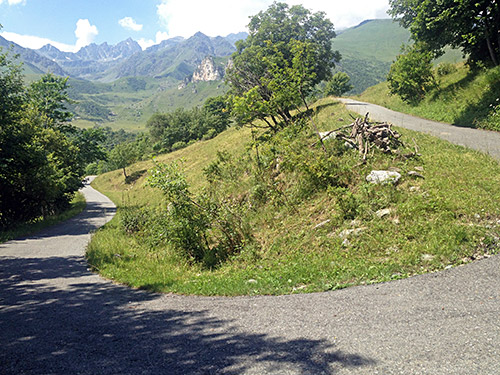 Here is one nice serpentine bend near the end in this photo.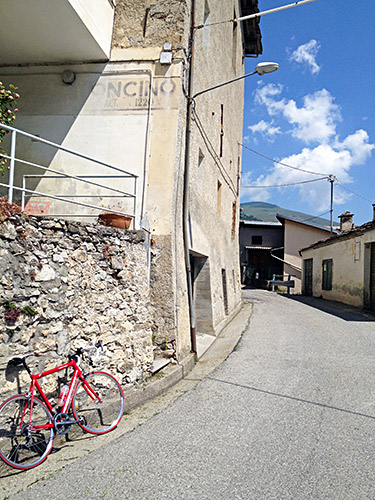 I like the old Oncino 1220m sign on the building!
Further down the Po valley I could have climbed another somewhat popular road to Pian Muné (1532m), but that was out of the plan from the start. Now I continued down and down until it got all flat a while before reaching Saluzzo (350m), where it was quite hot now. After fooling around for a while trying to find an open café in the middle of this Saturday, I found one at the centre and had a coffee and ice cream. The city had sort of closed down after the market earlier in the day, I believe.
Then were a long stretch again out on flat roads (probably the longest on this tour) down to Busca and then the straighter road across the open plains to Caraglio (582m) where it was time to stop again for coffee and ice cream (I think).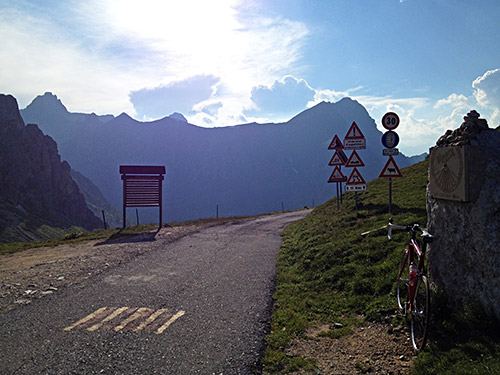 I guess it was already starting to get a bit late in the evening now, but there shouldn't be a problem doing another big climb this day and I decided to stick to the plan of revisiting Colle dei Morti (Fauniera) that I only been to in 2002 in bad weather and it is one of the nicest passes in the Alps. The alternative would have been to catch up with the schedule and try and get across to France over Col de Tende/Colle di Tenda, but that would mean even more flat land cycling and it was not all that certain I would get down to France or Italy before the dark. Moreover, I wanted to climb Colle dei Morti (Fauniera) from Caraglio which should be slightly harder (and the more classic route) than climbing from Demonte as I did before (one could also climb from Ponte Marmora).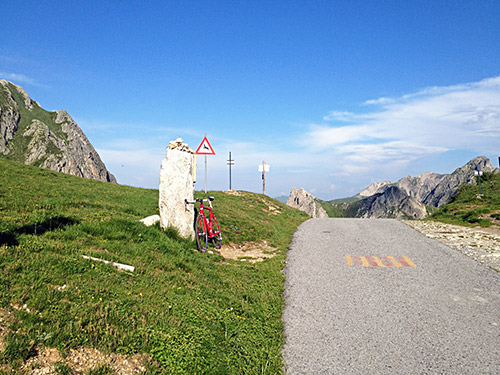 It was a lovely late afternoon and the road up is quite nice and only after Pradlèves does the road start to climb noticeably. I stopped for water, just before the road got steeper. The road is never terribly step however (max around 13-14%). I was lucky with very little traffic and I do not think I saw any cyclists here either. First near the Colle d'Esischie (2366m) the climbing started to get a bit harder. At Colle d'Esischie the road comes up from Ponte Marmora and I stopped for several photos forgetting that my battery was starting to drain (it is unfortunate the iPhone consumes so much battery).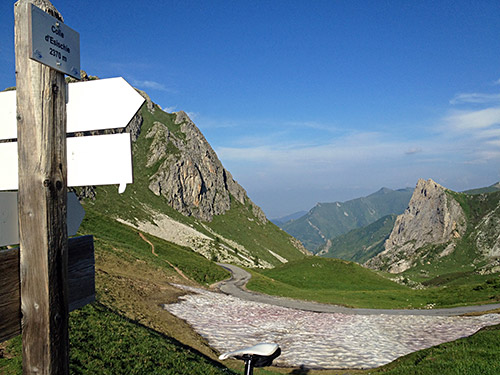 I went down the road in heavy rain to Ponte Marmora on my first visit here and it was in a very bad condition at the time, but now it looked much better here. The photo here and the one below looks down the Valle Grana where I came up.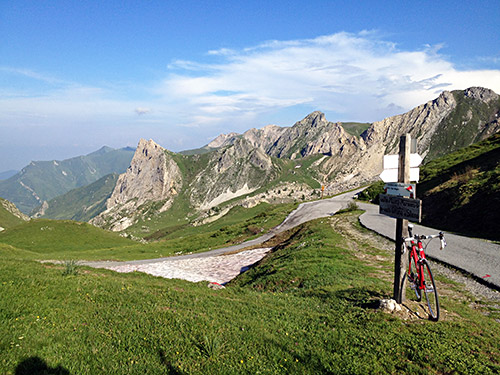 Still a little snow lingering in pockets up here, though the temperature was quite fine at around 20 C.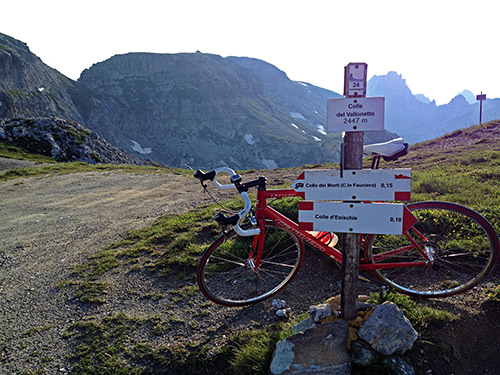 There is one more little pass before the Fauniera called Colle del Vallonetto (2439m), where there is only a track dow the other side. Two more photos here.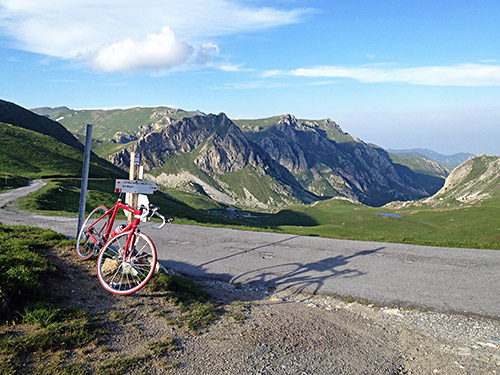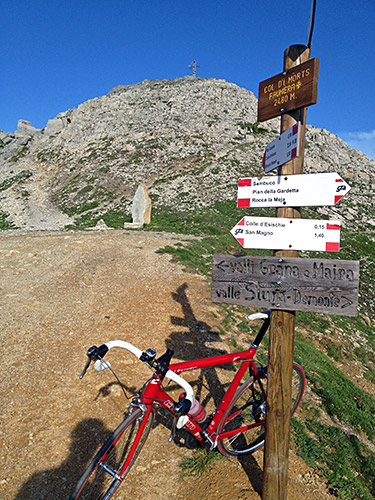 Then I was soon thereafter arriving at Colle dei Morti/Col di Morts (Fauniera) (2481m). Here it was even nicer, but after taking two photos the iPhone died as it was drained of battery. I managed to restart it and get one more photo here, but wanted to have at least two more around here without success. Fauniera is the mountain behind here that many have used to refer to as the destination here rather than the pass name.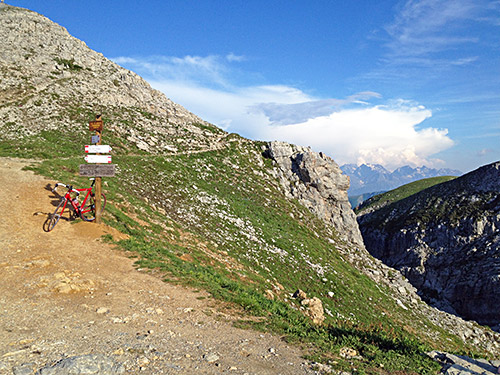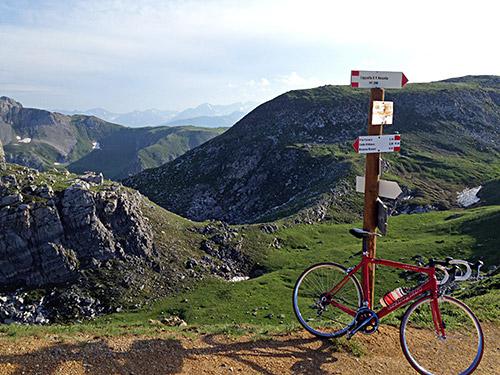 In this photo you can see the mountains on the border to France.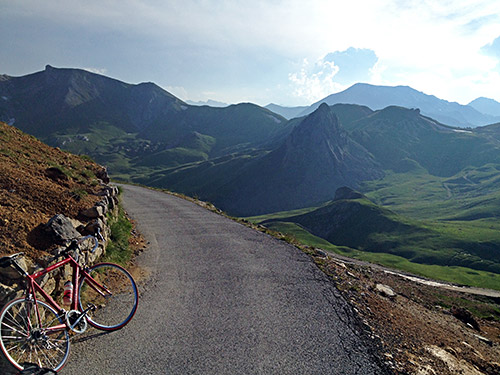 After waiting for a while I managed to convince my iPhone to start up once again for a photo at the lovely Colle di Valcavera (2416m), which is asphalted only some hundred metres down the other side, but there is a very popular gravel road continuing over a few pass before the road eventually will take you down on an asphalt road to Ponte Marmora and I have many times wanted to try this road, but this time I was too late and was not heading that direction anyway.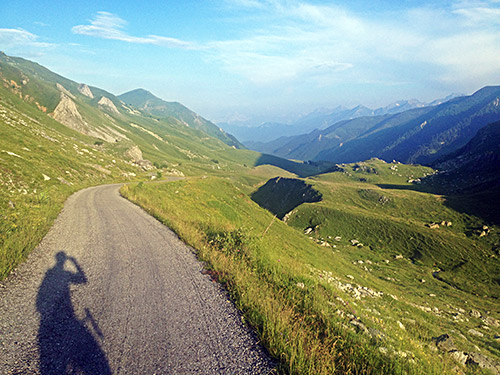 On the way down to Demonte the road is still in a decent condition (it was very good in 2002) and I managed to a last time get the iPhone started for a last photo down the valley. I remembered from climbing up here that I have never encountered as many marmot animals anywhere else in the Alps and that was also still true. They are everywhere up here. Just a little before this last photo I had a marmot run into my bicycle in full speed and was almost prepared to fall, but managed to stay on the road and stop even though he managed to move my bicycle a bit on the road as he ran into my rear wheel. That was scary as it happened so fast and never thought they might run out on the road like that. I think he did not hurt himself too much – likely it was good I had aero-dynamic bladed Sapim spokes ;-). Now I think I understand why they make so load noises – apparently they do not hear well. This was a rather big marmot going into my wheel though and I was lucky I had no accident. The wheel also made it without problems.
Just a little further down I was almost having a new accident with yet another crazy marmot, but it helped that I was now on my guard. Eventually I was out of this somewhat dangerous road to descend! This made me a bit uneasy as this could happen on other descents too and that is not really something most cyclists would think of. Eventually I got down to Demonte (780m) and found the hotel I had looked at when planning, intending to stop here a day earlier. It was a good and simple hotel near where I came down to the city. There were some festivities out on the town so I could not get any sleep until late.