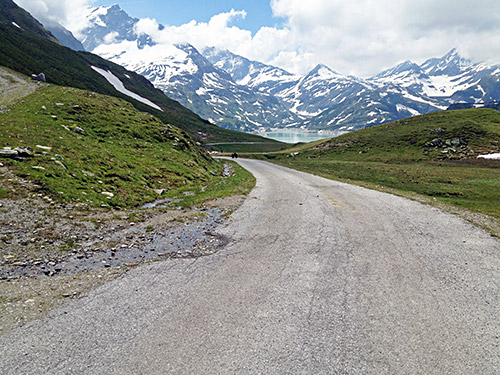 Luckily fine weather this morning again (usually the weather is only ever doubtful toward later afternoon and today it was the same). The road up to Tauernmoossee (2112m) were the only other road than the dubious Stausee Mooserboden (2043m) that was of any interest to visit now in this area after having climbed most other intersting roads around here earlier (probably there might be some nice high roads less than 2000m of height that could be of interest and I have been looking much on some gravel roads going up around 2000m near Piesendorf to the north (Kettentörl (1780m) and Rohrertörl (1918m) and Schmittenhöhe (1965m)) over to the Saalbach area and they may be practicable with a road bike, but they are also gravel for long, so not too interesting. There are so many high gravel roads in Austria and if they were all asphalted they would have more high asphalted roads than most Alp countries, but now it is the other way around.
There is a yearly bicycle event going up the Stubachtal to Enzingerboden (1480m) from Uttendorf (775m), but from Enzingerboden, there is a small asphalted road that climbs much higher to the Tauernmoossee. I had company early on with an older local cyclist talking about the event as there were some signs for it. The road up to Enzingerboden is mostly fine although the road is pretty bad right at the start in Stubachtal. It was getting very warm and I decided to stay for a coca-cola and ice cream at Enzingerboden, which turned out to be quite expensive, but at least I also got fresh water at the place before continuing.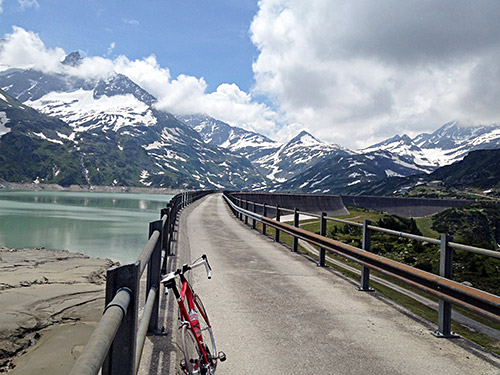 There is soon a very bad tunnel on the road up to Tauernmoossee and that alone might make some road bicyclists decide that this road is not for them. It is only just about possible to use with a road bike and has no light, but it is short and it does not get totally dark inside, but you cannot see the bad and stony ground so it might be wise to walk up/down here. I was lucky both up and down though. The road then improves and is all asphalted over the highest point of the road (2112m) where you first can see the Tauernmoossee (this is also arguably a pass, but without name).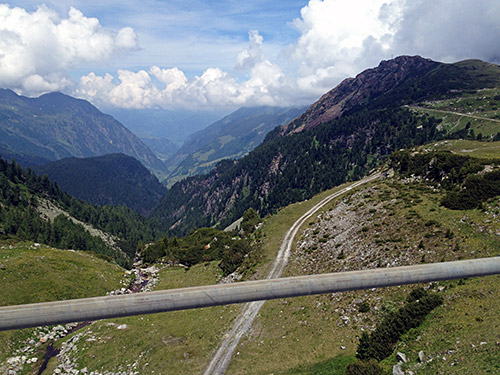 I continued down on the road that soon turns to gravel as you can see above here. Later down i becomes a little bit hard going with a road bike, but soon enough you get to the concrete road across the dam (2025m). It is nice cycling across the dam here and I hoped to get up on the other side to an actually named pass, Niedere Scharte (2065m), which is along the gravel road on the other side and you can see the pass above the house on the other side of the dam. However, they were working on the dam building putting on new concrete, so they did not allow me to pass and I did not want to argue too much, but guess I could have easily carry my bike on the side were they walked too, but likely they would not have trusted me. Anyway, I sort of count that pass in being as close as I was. The road looked good on the other side. It looked very dark almost as if it was asphalted, but I could not quite see if this was so, and if it was it was likely only up to the house (I have another photo from where I turned around showing the house better, but not the road).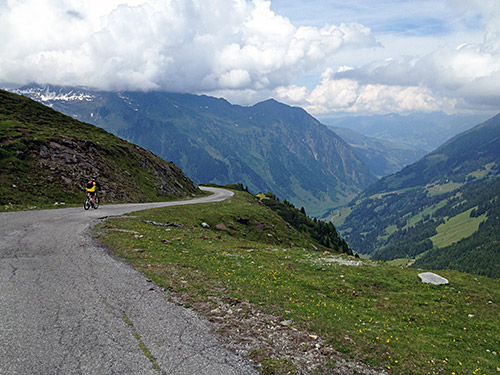 The descent was nice even if I had to go rather slowly down. I only saw 2-3 mountain bikers up this part of the road. I really wanted to stay up here rather than descending to the very hot valley, but just to go ahead.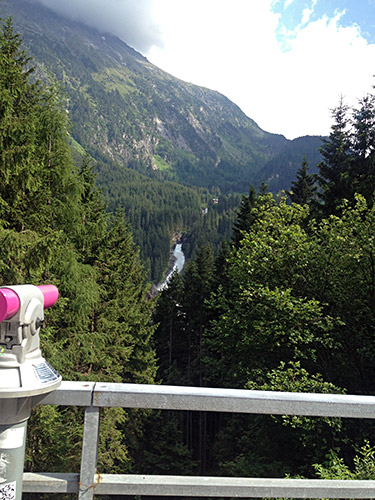 It is a long way up to Neukirchen (852m), Wald (885m) and Krimml (1067m). I stopped in Wald by a big hotel there, where I had a nice apfelstrudl and coffee. It was now terribly warm outside. I had planned to go up the old road to Gerlospass from Wald, but luckily I asked them at the restaurant and they told me the road was closed and that it would be difficult for me to even walk by there now. Apparently the road had become very bad in places, but maybe they fixed it during the Summer (I do not know). So I took the main road just as another time (but then in heavy rain). The new road goes about 100m higher than the old road, but is still easier as it is less steep, but thus also longer. I stopped at one of the viewpoint places along the road for the famous Krimmler waterfall, which might be the most famous waterfall in the Alps and it should be the biggest in Europe.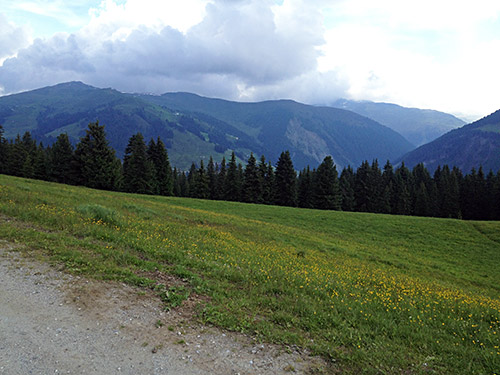 After getting a bit up the road, the temperature were back to normal and I felt better. At the so called "passhöhe" (1628m) (high point of the pass road, but not where the Gerlospass (1531m) is located) I took off on a rather flat road up to Hochkrimml and Gerlosplatte to where the asphalt road ends (1697m). Possibly I could have descended via Tischleralm, but not sure and I went back the same way.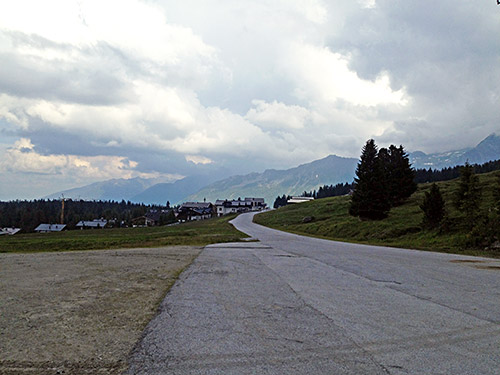 'Sportalm' was a name given at the houses I came up to here and I think I have heard the climb up here also referred to by that name.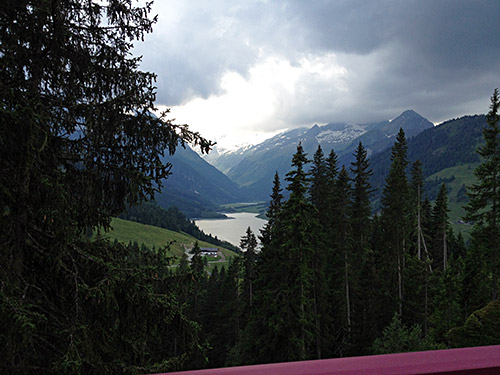 The view over the Speicher Durlassboden here is close to the actual Gerlosspass.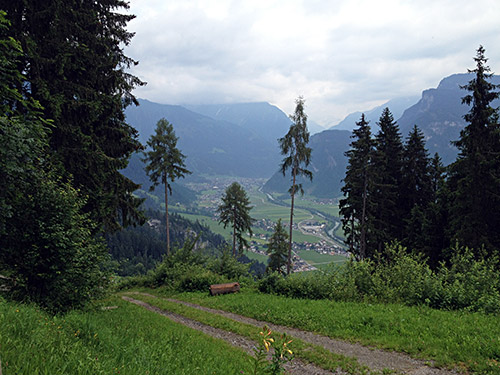 Now the weather turned less well on the way down to Gerlos (1245m) and I met cyclists looking less than happy, wondering why. Gerlos turned out to be hellish place with construction going on every where making it worse to get through the village than negotiating a bad gravel road. Soon out of that terrible place it then started to rain. I continued and it sort of ended before I got soaked. I wanted to go on a short-cut road up to Mayrhofen in Zillertal that I had studied and eventually found the turn-off that must be right, I thought without consulting my maps in Dropbox on my iPhone. I were right, but it mattered little as the problem was that the maps I had studied were not quite right.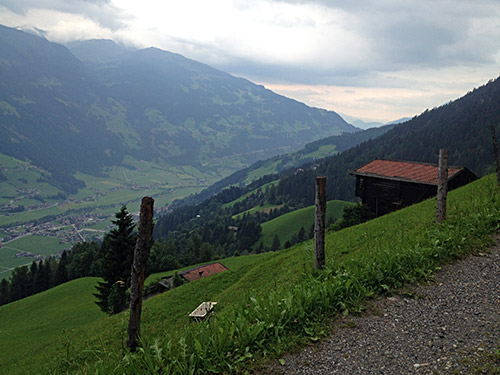 I continued and the road climbed for such a long time that I thought I must be lost, but then found someone to ask for the road down and the guy suggested it was just ahead and down, but that it might be bad for me with my bicycle, but he did not quite know. I continued and then at a road choice where one road went straight ahead and another less good looking gravel road went down, I consulted the maps and realised which road it was and that it was the bad road down here that was right (not that I had planned to take that, but a previous one (but the previous one does not really go down, so)). I cycled down on the gravel road which later has been so little used by four wheel vehicles that it was almost just like a grassy track in the woods, but still just good enough for me to slowly negotiate on the road bike. I met some walkers later down and some places were bad. I made it all the way down on the bicycle and you might be surprised at that if you would do it yourself.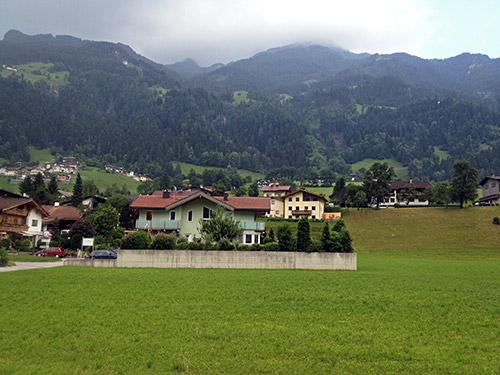 At the end of the gravel road a very steep and nice asphalt road descends abruptly to the Zillertal near Schwendau/Bichl (595m). This would have been a pretty good climb going up! Even better if the whole road would have been asphalted … . At least it was not raining now. At Mayrhofen I followed the sign for Zillgrund and took the tunnel even though there were a cyclist forbidden sign when I got to the tunnel. Was not in the mood of looking for another road up there now, but wanted to get up the valley instead of staying down in Mayrhofen as I thought I had not gone so far this day as I had hoped. The idea was to also get up to Speicher Zillergründl (1880m), but now it was enough if I only got a bit on the way up there. I got to Nösslrain (1018m), where I found a gasthaus. Stepped inside, but had to look around the whole house before I found the owner. It was a good place and I happily stayed there. The valley opens up just above here, so it was a good starting point for the morning.