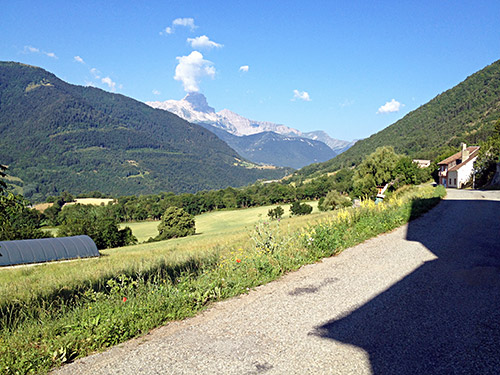 Another day with many photos and fine weather. Great views from Aspres-lès-Corps (as in the photo here). I got down to Corps very quickly and stopped for a quick coca-cola before continuing down to the Barrage et Pont du Sautët (794m), by the Lac du Sautët in the photo below here. This is indeed a very nice area just at the western edge of the Alps (the Alps continues a bit further west and even Mont Ventoux is strictly part of the Alps, but clearly at the very far west end – the Rhône river marks the definitive end).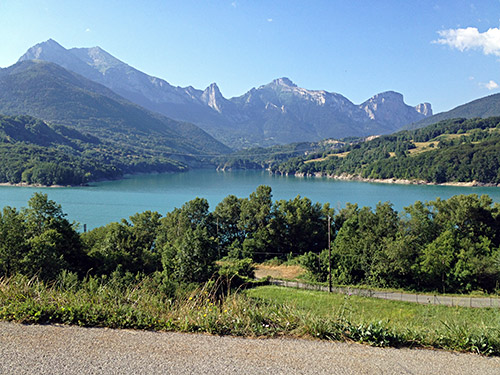 Today was the Vercors day, but also a visit to the main Grenoble skiing destination, Chamrousse.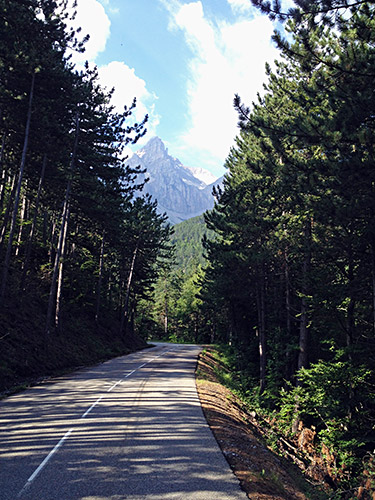 On the way up from the Lac du Sautët the road goes a little up and down like in the photo here, where I stopped for a photo of the Grand Tête de l'Obiou (2789m), which is really a big mountain for the area. Here there were some woods, but the asphalted roads only rarely goes through woods around here.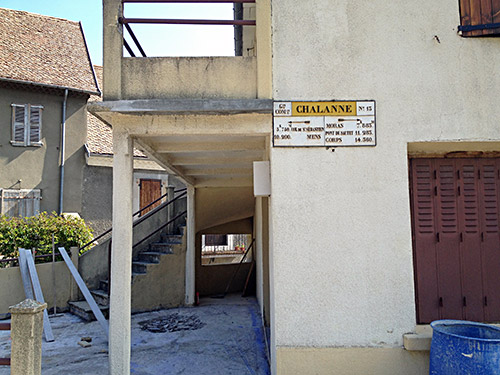 Soon I was out on the open countryside and stopped in Cordéac/Chalanne (903m) for a photo of the nice little sign showing the directions and lengths down to the metre. It also notes the distance to the first pass for the day that I was heading to – Col de St. Sébastien (983m), which is a pass I have visited before.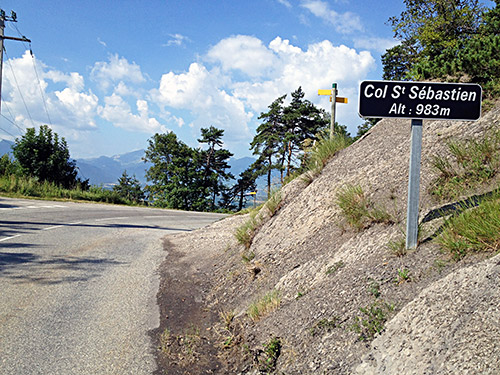 The pass sign for this easy pass, although not so easy if one climbs up from the north at one of the two passages there over the Drac river.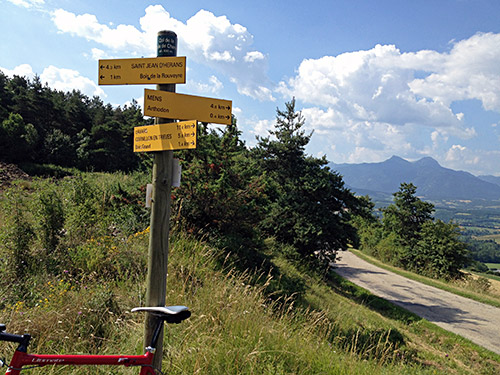 Then down toward Mens, but I turned off up the next asphalted road going right to collect some more passes not previously visited in the area. The next one was the Collet d'Hérans/Col de la Croix de Charvet (934m).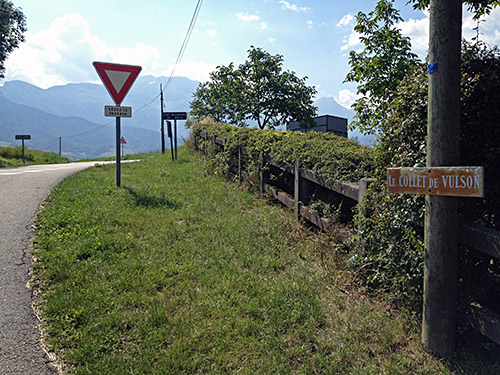 Then down to a bigger road leading back to Mens via another pass – Col Accarias/Le Collet de Vulson (892m). Again I avoided going down to Mens and instead went down to Homme du Lac (857m) and Col de Cornillon (885m) (the first is really a separate pass). I got a little confused about another pass – Col du Thaud (882m) and went down the road to Châteaux de Cornillon as I thought the Cornillon pass was at the Homme de Lac location (did not look at the map) and had forgotten the original plan of only visiting the Cornillon pass on the return, but later skipped going back this way anyway, so never got to nearby Col du Thaud.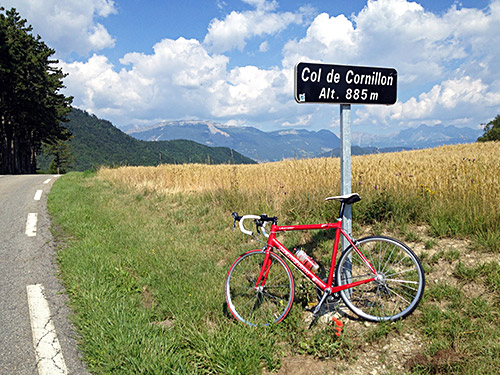 Down at the crossroad by le Petit Oriol I had to stop and consult the map, even if a cyclist just passed me by. The D34g road down to Pont de Parassat (598m) was quite a nice little road. Here I had to consult the maps again.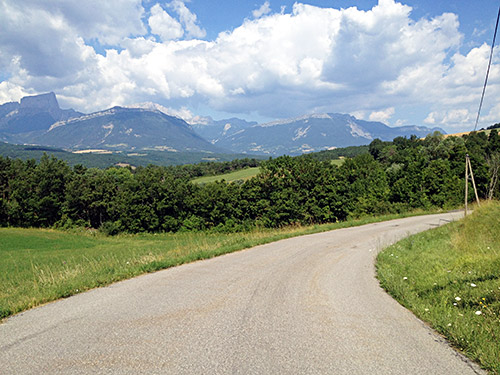 At the start of the climb up to Clelles (771m) another cyclist overtook me, but I hanged on to him and later I helped him keep up the pace. Both very sweaty in the increasing heat of the day, I said goodbye as we entered Clelles as I wanted to stop for an early lunch here.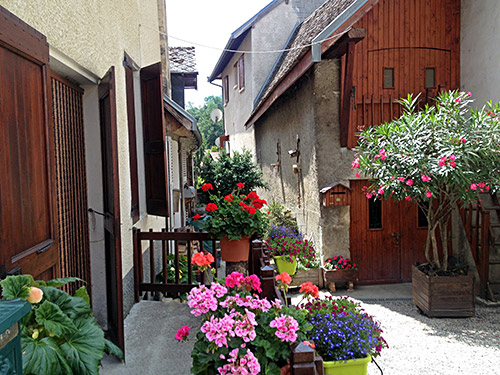 In Clelles I also managed to get a sandwich made by visiting the boulangerie and bringing some bread back to the grocery store. Have to get a photo of all the nice flowers one could view in small nice villages like this one. Photo taken just in the centre next to the grocery and where I was sitting eating my sandwich and drinking more coca-cola.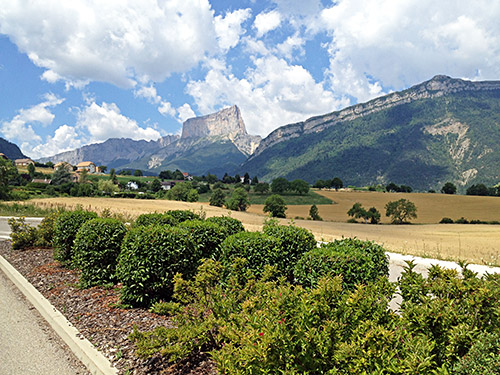 Here the almost surreal Mont Aiguille (2086m) and (likely) the most famous mountain in the Vercors and first climbed in 1492.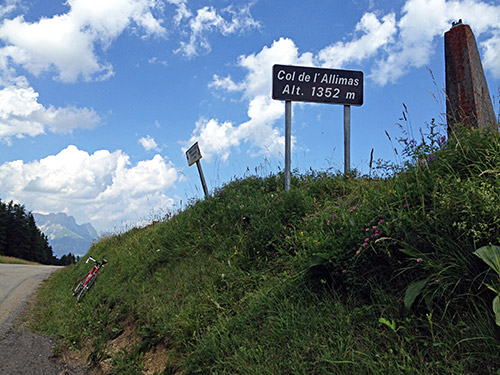 Next pass was a pass I had hoped to climb an earlier year – Col de l'Allimas (1352m). Only a few shorter steeper places up here.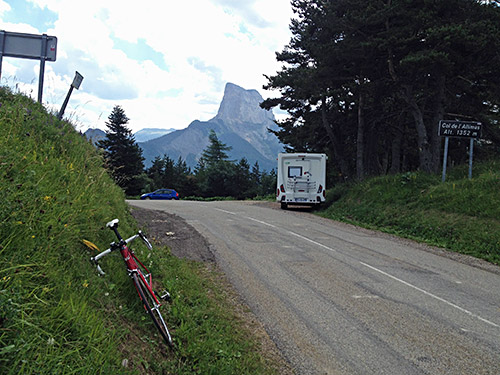 From Col de l'Allimas I had a last photo of the Mont Aiguille from the other side. Then it was a short journey down to Gresse-en-Vercors (1192m). From the centre there is a road going right to the Alpage du Serpaton, which at first is a very good and nice road where many people could be out walking on a fine day. This road later becomes very steep and less good. Eventually the landscape opens up and one has to pass over a bar barring access to unauthorised vehicles by a parking place. The road winds it ways up a little less steep to Pas du Serpaton/Croix de Gresse (1586m) which was one of the highest passes I had not been to previously and the main reason for going this way through the Vercors.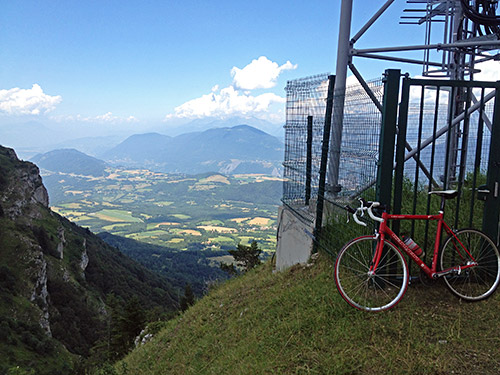 The road ends a little higher than the pass at ca. 1608m by a sender or transmission tower.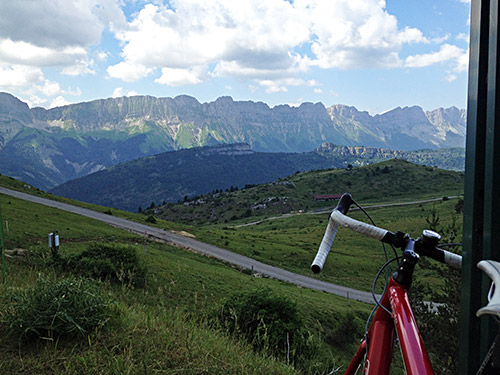 Luckily it turned out to be a really beautiful pass, which was a positive thing as it is otherwise only a cul-de-sac road for bicyclists. Many photos here. This one looks at the main ridge of the Vercors (on the other side is the Lans plain).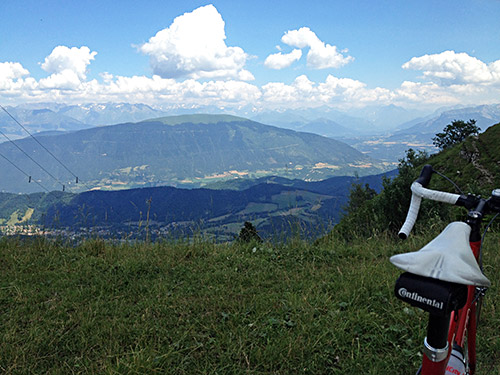 Here I look southeast toward the high Alps and in front is first seen Le Senépy (1769m).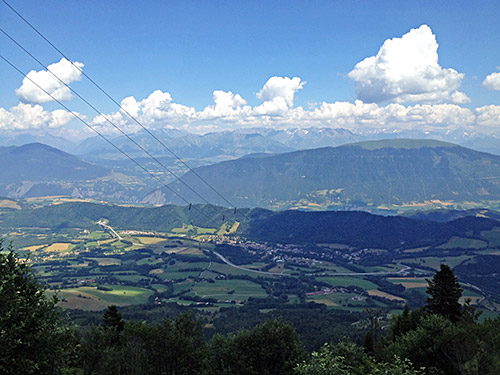 Here the view more exactly straight at the east.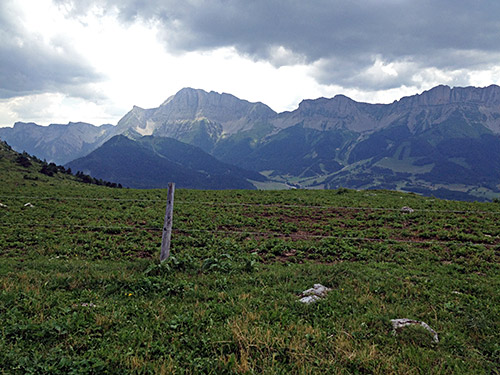 Another view of the Vercors ridge southwards from Gresse.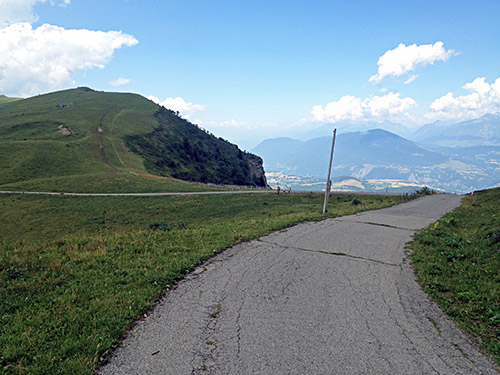 Here is the pass seen and the photo is in the direction of Grenoble, which could nearly be seen, but is behind the mountain here.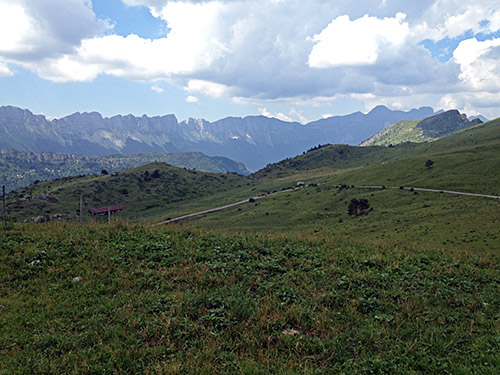 The last part of the climb to Pas du Serpaton.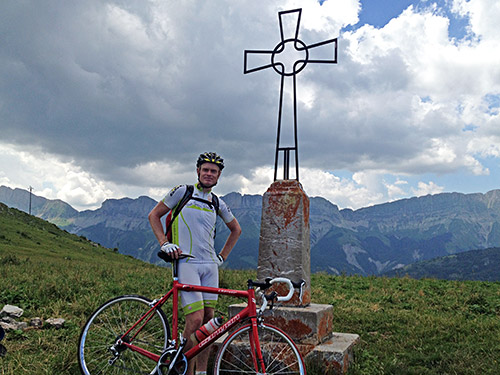 The Croix de Gresse by the pass. A nice family exchanged took my photo here (and I took one of them). Beginning to look slimmer than early on … .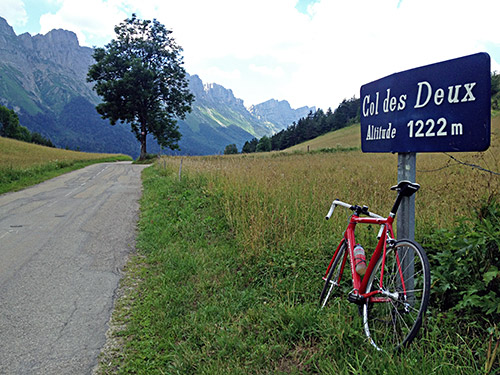 Then down to Gresse and a coffee at the nice hotel just opposite the start of the Serpaton road and skimming through a catalogue presenting the Tour de France for the year. The TdF finished on the day I entered France. I had originally planned to perhaps join some Swedish cycling friends around Alpe d'Huez in connection with the TdF, but the schedule did not fit in well with my plans this year.
From Gresse I took a local road up to a minor pass, supposedly called (Col de la) Croix de Serre Monet (1256m) (I did not see the "col de la" on the sign though so put that in parenthesis). Then a slightly bad, but very short, gravel road down to Les Grands Deux (1202m) and then out on the small nice road up to Col des Deux (1222m), which is one of the cutest passes I have ever seen – even the pass sign is sort of cute. A very sweet pass and road!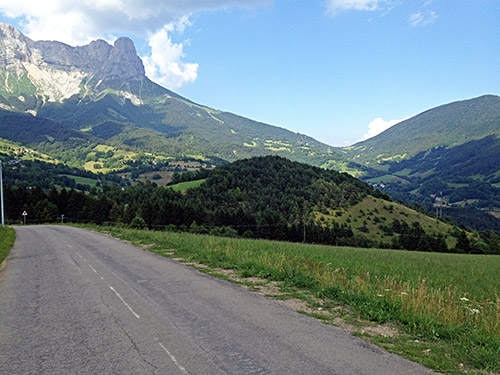 Then down through the forest and up to St-Andéol (1020m), which is arguably a pass too, but I found no sign indicating this. I filled up water and on the way down from here decided that I should not return around La Mure, but instead go up the Col de l'Arzelier (1154m), which I had not planned to visit this time, but have to do something when I had just decided to skip collecting a lot of lower passes.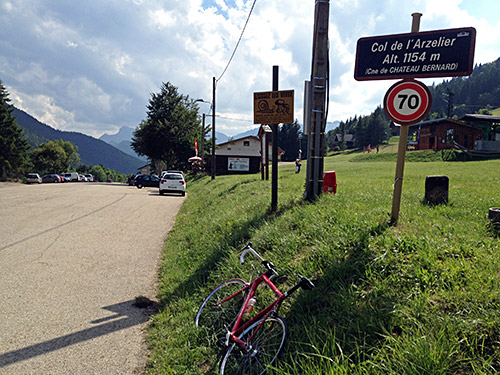 Col de l'Arzelier felt like more than 250 height metres to climb, but it was still quite easy from this side. The other side is a pretty good climb from Le Genevray (Vif) (358m). I stopped to have two sodas and a chocolate bar before continuing into Vif. Now it was very hot and even the French people here complained about the heat which I had very much avoided this day by being mostly up at around 1000m height or higher.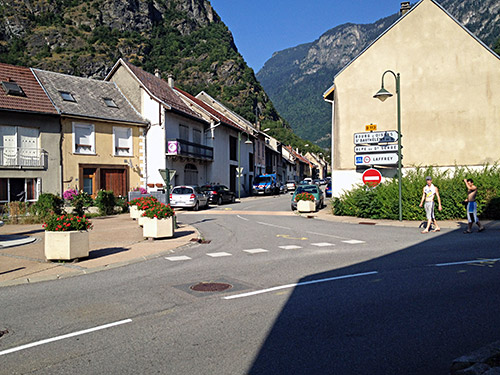 It was endurable as I know I was not going to stay around down here for long and I just went on through the busy roads until I eventually got to Séchilienne (364m) on the way up to Bourg d'Oisans, Alpe d'Huez and the other famous cycling destinations up here. I was however going to take off from this valley right here in Séchilienne and for the first time climb the Col Luitel (1262m) and Chamrousse (1791m) that I have meant so many times before to visit.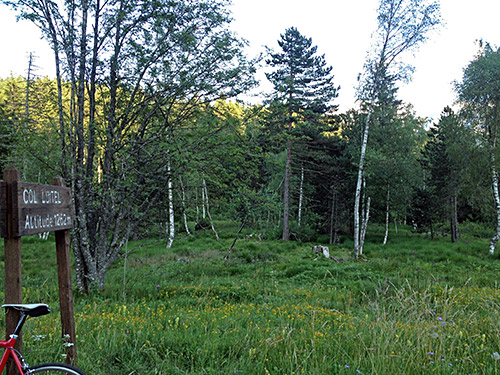 The climb up to Col Luitel is known to be one of the harder climbs in France (but not scenic) and I surely have to agree on it being a hard climb. For me it was the hardest climb in France this year. The rest of the road to Chamrousse is on a very wide ski resort road which is very easy and very boring, but also that part got a bit hard as I had the Col Luitel climb in my legs and tried to go on in a good speed as I thought it was not as high as it was (as always). I have not found a profile for the full climb on salite.ch, but it would likely score quite high. There is 9 km at close to 10% on average on a narrow road with very varying steepness, which is much steeper than Alpe d'Huez, even if a little shorter.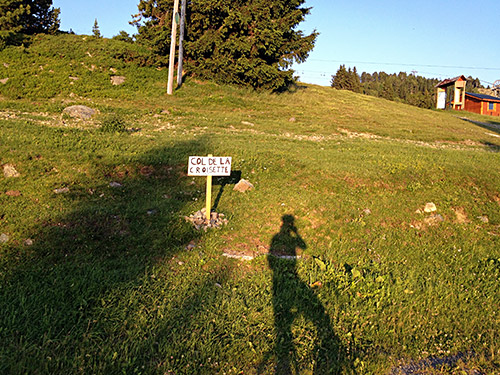 The profiles for the climb to Chamrousse also usually stops around 1650m, but the asphalt roads continues to 1791m. I had some difficulty finding the right road to the top among the boring ski hotels and facilities. Someone had put up a sign at the high point saying Col de la Croisette – thanks, but that is not really a pass here I am afraid.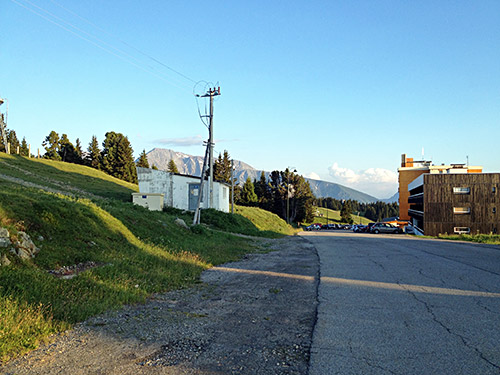 The views are okay at this highest point and there is also a gravel road continuing higher up, but now it was too late already in the day for me trying to explore this gravel road (not sure if it would be fine with a road bike for long, but it should certainly provide better views around).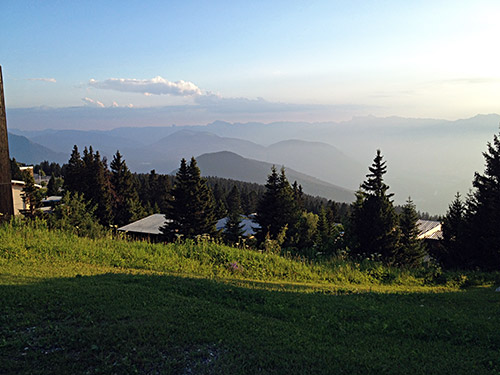 Here near hotel Edelweiss just below the top, I found a tiny place where I almost could get a view back southwest without any hotel blocking the view.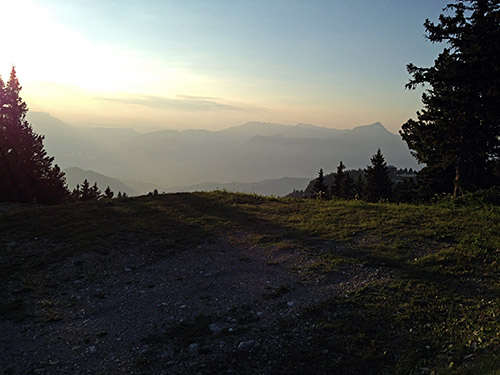 And one final photo without any constructions in sight looking northwest. I continued down to the centre of Chamrousse and asked for the price for a room at a somewhat shabby looking hotel by the main road, thinking it might be cheap. They were not very friendly or cheap at the place and also refused to serve me anything to eat, so I continued down from the bloody fucking place called Chamrousse (avoid it at all costs!). I then came upon a busy restaurant just by the turn-off for a minor road I had planned for the next day and stopped to ask if I could stay there. They were terribly busy with customers, but they were very nice and happy to offer me both a room and a nice dinner. It was also a much more nicely located place (and warmer) – Les Seiglières (1065m).