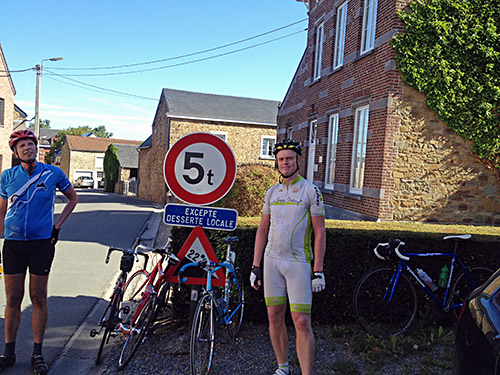 Perfect weather at the start this day. I was taking things a little bit too easy at breakfast, so I got out last (had to run around to get keys etc.), but we got away only a few minutes after the planned start. It was actually the only day I was too late at start even if some of the others might claim otherwise! ;-) (I forgot my helmet inside a locked garage one day.)
It felt relaxing however to be cycling in nice weather with a bunch of guys (contrary to my club mates at home in CK Master in Gothenburg), where I would be among the best for once. So I took it nice and easy, but there were several climbs and then it was full speed ahead competing with Dirk from Germany most of the times. Most of the times I was up first, but the others are not really cycling more than for leisure. Another more ambitious guy joined the next to last day and gave me a bit more challenge. Anyway, one can easily make up for different speeds by starting behind and then go ahead. So going with slower people doesn't have to mean that you get no training. Photo: Triple mur Monty with Dirk.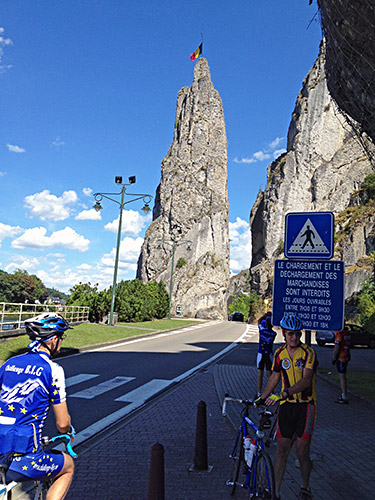 Also I was taking this as a way to wind down slowly after the long Alps tour. That might have helped a little in recovering later also, but think I had pain in my knees for a month anyway. We went in circles at times and most of the times I just hanged on to the others that knew the road ahead as I only had a sketchy road book for the tour in the Ardennes. Dinant was one of the first places we visited along the river down from Namur via a steep hill to Triple mur Monty (Lustin).
Next we went up Montagne de la Croix and to Givet. Photo: Dinant with Gabor (Hungary) and Achim (Germany).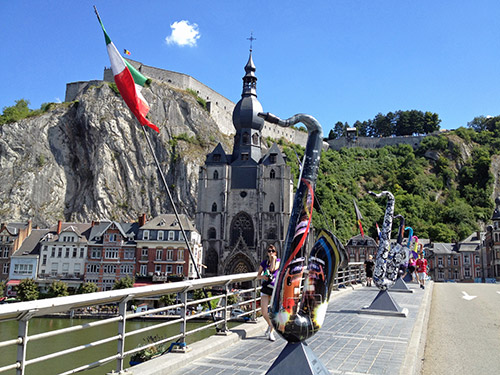 Then on to Couvin, I kept waiting for the slowest man, but he was not really trying hard to help us waiting for him in the end. I managed to catch up with everyone apart from Dirk this time up to above Barrage du Ry de Rome.
The organizers had very good feeding stations prepared for us along the road at ca. 2-3 places per day. There were a few Dutch people with us the first day, but they had to leave, like Helmuth. The only other Swede, Fredrik, is a friend from before (actually initially through another cycling friend Ola who has joined me on some endeavors in the Alps and the Pyrenees before. Photo of Dinant.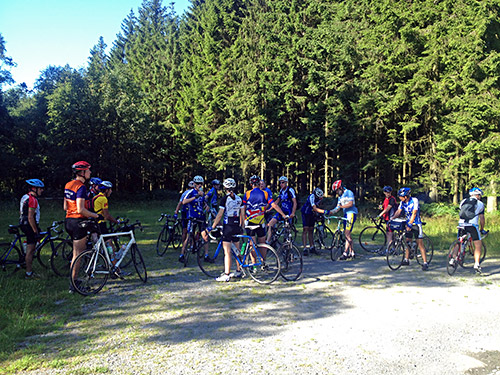 First day ended in Revin at a simple, but okay hotel. In my quest for Belgian beers I found an open little shop selling Chimay and bought 2-3 bottles. We were later eating at the hotel. It had been a fine day and I was starting to get back to normal after the tiresome long car ride the day before, but it helped having a nice conversion most of the way with Enrico there.