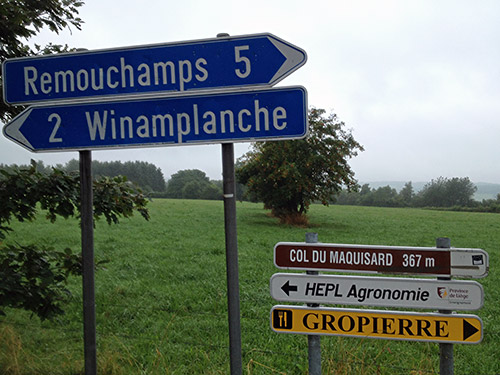 All right, the very last page here. This day thankfully was without any rain and the roads were almost dry. I took some paper with me to clean the bicycle up a little bit along the road when we stopped to keep it as clean as possible for later transport. The day started with me on time at the start, BUT just when we started someone pointed out that I had forgotten my helmet. Oh dear, and of course it was locked in and I had to hurry up to the reception to get a key and down and then up and then back again.
The weather was gloomy in the morning though. Here at Col du Maquisard (367m). After that pass we came to Col de Hautregard (357m). The first BIG for this last day was Côte de la Redoute. Now we were heading back to Namur. We went not so far from Liège here (Aywalle), but mostly it felt like we were out on the countryside and we went south again for a while here.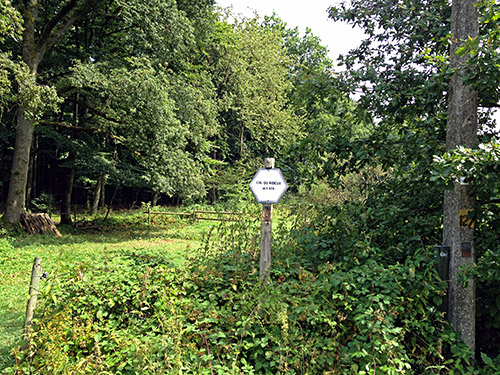 Col du Rideux (370m) is on a long detour on the way to Huy as we were near Barvaux. I believe we went close also to Pas-Bayard (329m) before turning to Barvaux and then straight to Huy. I remember talking with Dirk about databases working in RAM that he worked on while descending some hill. Surely one can talk while cycling!
When it was clear only had Mur de Huy in Huy left for the day and the signs started to mention Huy, I thought I felt fresh and went ahead when te sign said it was like 17-19 kilometres left. As I felt it was the last I did this Summer, I went at near maximum speed all the way to Huy and felt sure I should be able to climb Mur de Huy twice before the others arrived.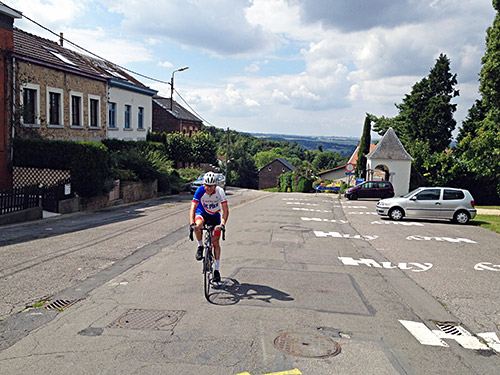 However, when I came to Huy I soon realised that there was more to that place than this very famous steep road. It was as if I had expected big signs informing everyone were the main attraction in town were, but somehow they had overlooked to make sure tourists would know about this without a doubt.
I looked up the hills left and right and decided that maybe it was up the hill to the left from where I arrived. No one to ask, so better take a chance and see, I thought. It was indeed a steep road, but not so very steep and I think the road was sign-posted for Dinant. When I came to the top, I turned around to ask another cyclist I just had passed by where the Mur de Huy was and it was of course on the other side of the town. Then I went down and got into small roads with construction work blocking the road, but got out and started out from the middle of the town to the other side, but it did not seem convincing and I still saw no sign, so I thought I better get back t the centre to catch the others as they ought to arrive soon.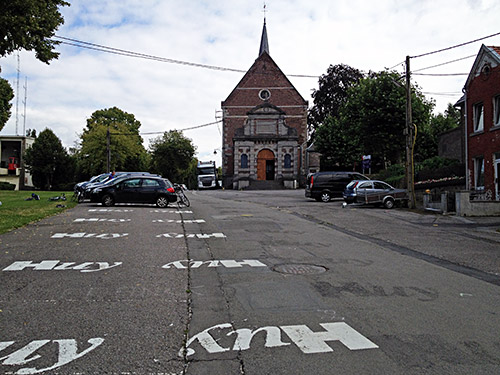 Then came Wim on his own down the road and I asked if he knew were the others were, but he thought they were ahead of him. He luckily had a memory of where Mur de Huy was as he had apparently climbed it before and I had been close to the start of the climb just before returning to the centre. Then quickly climbed the hill and passed by one or two of the others, but most f the guys were already up at the top. So much for trying to get ahead and I who had thought it would have been nice to end first at the top here. Oh well ;-). I was happy enough with getting up once and it was not so terribly hard as the rumors have it. I thought someone had said it was 27%, but it is merely a moderate 19% at the maximum. That is similar to the average gradient at the Sella Festons climb on the first day of the tour and not for a few metres, but for several kilometres.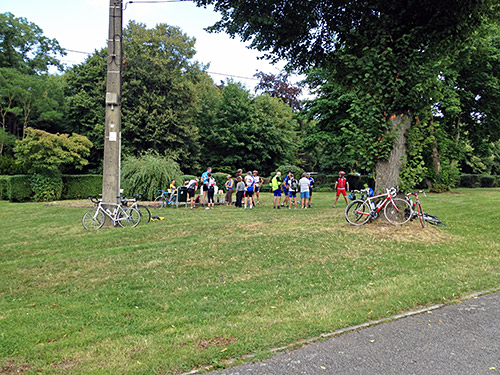 Still Mur de Huy is a nice little road. I had now learned to be careful as I had to stop on one or two climbs because my cleats had been worn out down in the Alps and was easy to get out if using some force upwards in places where it is very steep. A bit dangerous when travelling in groups like this I realised then, so should have tried to get hold of bicycle cleats earlier on. The weather was now quite good again.
The plan was to cycle back to Namur and to find another place to stay at for the night before going home from Brussels the next day. But I had talked with Axel in Wanne (or later) and he had suggested that maybe I could stay at their home. However, he had first also thought to stay the night in Namur, but after checking with his family the plan was changed. Axel lives in Anderlecht (part of Brussels) and his wife Annick came to pick us up at Huy. However, I could not get my bag and bicycle and also myself in the car with them both, so first we thought I take the bicycle on the train and they take only my bag, but then I managed to get another better option and packed down the bicycle and changed clothes and got a lifrt to the station with the van.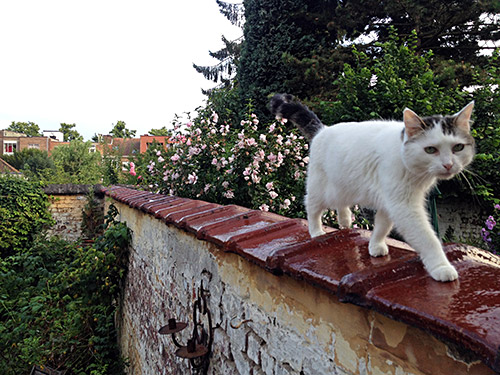 So after cheering with a glass of wine that Enrico from Cortina had brought with him (thanks!), we left and split up. After a train ride (listening on my iPod to my favourite artists Eyeless In Gaza performing live in Huy back in 1981) via Namur changing train and subway to Anderlecht I was eventually at the end destination for the Summer. Annick & Axel with sons offered a nice dinner. There nice cats were also living here (one of the less shy in the photo here).
I could not help mentioning music being here in Brussels and as they were around my age. Brussels was the musical capital in Europe after London back in the early 80's and thus I asked if they had happened to hear about a band that worked here then called Tuxedomoon. That turned out to be a rather right subject as Annick was close friend with the bands bibliographer Isabelle Corbisier, whose book Music for Vagabonds, I had meant to buy for a long time sat on her shelf signed as she showed me! I went out the next day on the town before getting off home to try and buy this book as a birthday present as it was now also my birthday, but no luck with that even though I wandered around all of central Brussel asking about it. At least I got some chocolate before going back home. (I bought the book later on the Internet.)
Again: Thanks a lot all of you who helped me this Summer! -- Especially Enrico! But also Axel & Annick.