Jerry's Tour of the Alps 2013 – Saturday August 3rd
Cortina d'Ampezzo — car — Namur (car ride to Namur, Belgium)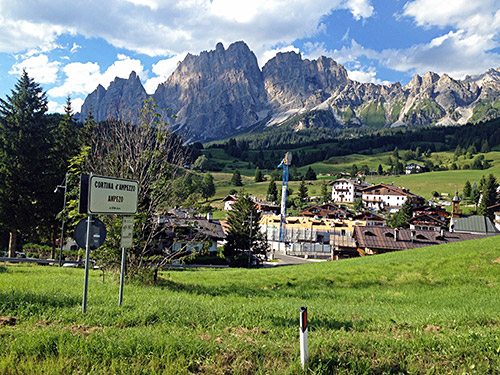 This day was a long day going by car to Namur in Belgium from Cortina d'Ampezzo in Italy. Enrico and me took off quite early in the morning (cannot quite remember now exactly when, but it should have been before 6 am at least). It was a nice drive in the morning over Passo di Cimabanche/Sórabànces/Im Gemärk (1533m).
We stopped first at Brennerpass/Passo del Brennero (1370m), where I remembered I should buy some licorice with me before leaving Italy as it is much more difficult in the rest of Europe to find such of the classic hard and natural variant (typical natural/ecological food shops may sell them elsewhere).
When we got over to Germany it soon got really hot in the middle of the day when we next stopped to have something little to eat. We went off again in Luxembourg to eat, but the place we stopped at was no good, so we continued to Namur. In Namur we stayed by the youth hostel, were we eventually sorted things out and could take a long walk to a pizzeria along the river. They had no good Belgian beer that I had hoped for, but I got two pizzas and wine. We met up here with the a group of BIG club riders from all over Europe. The plan was to cycle five days through the Ardennes and visit several (mostly famous) small hard climbs along the way.